The FBI has plenty to investigate if it wants to get serious.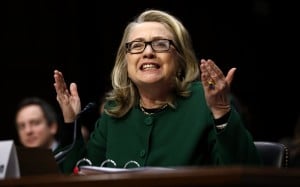 The FBI is finally looking into Hillary Clinton's handling of email as Secretary of State, but her campaign says not to worry because it's not a "criminal referral" and she followed "appropriate practices." The relevant question is why isn't it a criminal probe?
Congress asked Charles McCullough III, Inspector General for the intelligence community, to evaluate whether classified information was transmitted or received by State Department employees over personal email systems. His office sampled 40 of Mrs. Clinton's emails, determined that four contained classified intelligence, and passed that finding to Justice for review. This was merely a first step, and now we know the FBI is investigating the security of Mrs. Clinton's private server.
The McCullough findings at a minimum rebut Mrs. Clinton's claim in March that there was "no classified material" in her personal email. Extrapolate the McCullough finding of four of 40 classified emails to the 30,000 emails Mrs. Clinton gave to State, and thousands could contain classified information. State has already redacted and withheld dozens of Mrs. Clinton's emails from its monthly, court-ordered email releases, having deemed them confidential.
Clinton spokesman Nick Merrill says none of this matters because all of the "released emails deemed classified by the administration have been done so after the fact, and not at the time they were transmitted." Mrs. Clinton adds that this is merely a "typical" fight after the fact about the technical definition of "classified."
But this skates over that the person in charge of setting classification designations for her department was none other than Mrs. Clinton. As State Department head, she was responsible for setting classification levels ("top secret," "secret," "confidential") and establishing uniform procedures to ensure these designations and protect the information.
In her March press conference, Mrs. Clinton bragged that she was "well aware of the classification requirements," yet only now is her team saying she couldn't recognize classified material when she saw it. And Mr. McCullough has made clear that the four emails he identified "contained classified information when they were generated," remain "classified today," and "should never have been transmitted via an unclassified personal system."
The larger point is that Mrs. Clinton had no business using private email for any document that might come close to the gray area of classified or sensitive. Even if Mrs. Clinton was careful not to email classified information, how did she prevent others from sending it to her? Did the entire State Department know she was using a private server? Was there a protocol?
Mrs. Clinton's insistence that she never emailed classified information over her private server is an admission that her system lacked adequate security. Experts we talk to say it's a virtual certainty that foreign hackers or intelligence services accessed her private server.
The Clinton campaign says a team of reviewers went through each email to determine what should be given to the State Department. Who were those reviewers, and did they have classified clearance? And how secure is the thumb drive with classified info that the Clinton campaign says is in the possession of Clinton lawyer David Kendall?
The Espionage Act, which is part of the U.S. criminal code, makes it a crime for any government employee, through "gross negligence," to allow national defense information "to be removed from its proper place of custody or delivered to anyone in violation of his trust, or to be lost, stolen, abstracted or destroyed." Mrs. Clinton's email on a private server was not in its proper place of custody and was at plenty of risk of being lost or stolen. We also know she edited some of the email that went to State, which means pieces of it have been destroyed.
Plenty of government officials have been prosecuted for less. David Petraeus paid a fine and received two years of probation for allowing his mistress access to classified information. John Deutch, former director of the CIA, pleaded guilty to a misdemeanor charge and fine after his laptops were found to contain classified materials. Bill Clinton pardoned him on the last day of his Presidency.
Marine Major Jason Brezler, who fought in Iraq and Afghanistan, accidentally took home a few classified documents on his personal computer and sent one over personal email in response to an urgent inquiry. A Marine Corps board of inquiry recommended he be discharged for mishandling classified information.
Compare this to Mrs. Clinton's elaborate efforts to keep her official email from public view. She knew the rules, yet she chose to break them for her own political benefit. In the process she put state secrets at risk. This is gross negligence in the pursuit of gross self-interest.