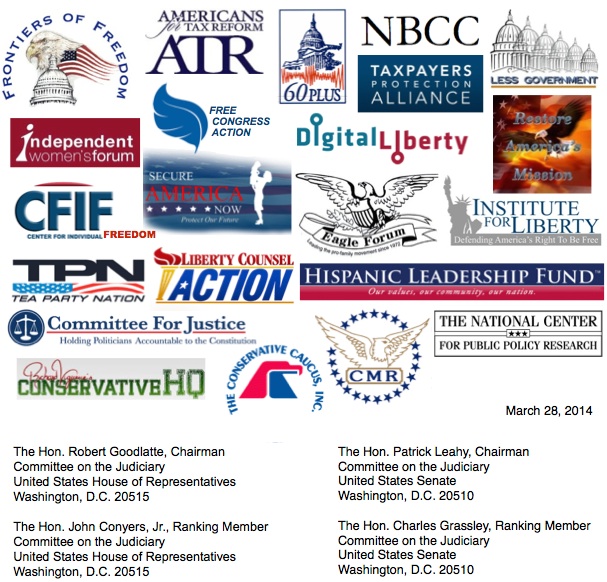 Dear Chairmen and Ranking Members:
The Obama Administration's decision to release our historical control over the Internet Assigned Number Authority (IANA) functions that administer the Internet will weaken America's position as the world's leading defender of free speech protections and will have devastating consequences for the free flow of information around the world.  This surrender of authority means the U.S. would no longer be in a position to ensure that the Internet Corporation for Assigned Names and Numbers (ICANN) — the likely recipient of the IANA functions — is not captured by governments that sustain their power through Internet censorship like Russia, China and Turkey. That would likely mean the loss of constitutional protections of free speech on the Internet and the loss of a strong rule of law foundation. Even worse, once American control of the Internet is released, it cannot be taken back. This decision, once implemented, will be irrevocable.
ICANN's CEO, Fadi Chehadé, has repeatedly expressed his preference to work from his "satellite offices" in places like Singapore, Istanbul and of course, Brussels.  He spends only about a quarter of his work year in the U.S. at ICANN's formal headquarters in California, and he makes no secret of his plans to internationalize ICANN and free it from any formal oversight by the United States.  Now, our own government, through the National Telecommunications and Information Administration (NTIA), appears ready and willing to accommodate his desire.
Chehadé even made a special trip to Brazil in October 2013 to thank Brazilian President Dilma Rousseff, whom he said "spoke for the world" and was the "world's leader" when she addressed the United Nations to criticize the United States following the Snowden allegations.  In that speech, Rousseff said that the U.S. represented: "a situation of grave violation of human rights and of civil liberties; of invasion and capture of confidential information concerning corporate activities, and especially of disrespect to national sovereignty. We expressed to the Government of the United States our disapproval, and demanded explanations, apologies and guarantees that such procedures will never be repeated."  During Chehadé's meeting with Rousseff, rather than question these remarks, he thanked her and agreed with her to host a major conference on Internet governance.
As an organization, ICANN is rapidly pursuing a plan to "internationalize" away from its California headquarters and into foreign countries where governments are eager to censor those portions of the Internet that may voice disagreement with their oppressive regimes.  Just last year, ICANN announced it was opening a "regional hub" in Istanbul, home to a government long understood to censor Internet content.  We learned just this week that Turkey's Prime Minister bragged about blocking his citizens from accessing Twitter, in order to prevent them from viewing content adverse to his administration.
Chehadé's and ICANN's international expansion simply would not be possible without the hundreds of millions of dollars in new revenues ICANN receives from its hurredly-implemented generic Top Level Domain name (gTLD) expansion program.   In expanding the number of gTLDs, ICANN has repeatedly ignored requests from officials throughout the U.S. Government – including the Judiciary Committees of both the Senate and House – to act in a more prudent, careful manner that protects consumers and trademark holders.
While this plan has been a financial boon to ICANN and Chehadé, it amounts to nothing more than a tax on American trademark holders and consumers.  These new taxes don't just harm global enterprises – they gouge organizations both large and small that are forced to register their brand on one of the hundreds of new domain names popping up every few weeks.  For instance, if the Girl Scouts of the USA wants to protect its brand from exploitation and cybersquatting by criminals around the world, it would be forced to register hundreds of new domain names, such as girlscouts.charity, and more ominously, girlscouts.webcam and girlscouts.sex.  Every trademark holder faces this same dilemma.  On top of the fee ICANN takes from each domain name registered, ICANN makes hundreds of thousands of dollars for each application it receives from a potential registry operator to administer one of these new Top Level Domain names.  The only organizations that support this expansion are ICANN and the trademark trolls set to make millions by operating these new gTLD registries.
It appears that ICANN simply refuses to be stopped in its careless plans to rapidly expand the number of generic Top Level Domain names.  While ICANN touts its "multistakeholder model" of engaging the "international community," ICANN has largely ignored previous oversight by both the House and Senate Judiciary Committees.  In 2011, the House Judiciary Committee held a hearing on gTLD expansion, at which representatives of businesses and other trademark holders explained how dramatically expanding the number of these gTLDs would cost their organizations untold sums in new registration fees just to protect their brands, without adding any value or growth to the U.S. economy.  The Committee heard that these names were a solution in search of a problem, without support from the business community.  Committee members sent a letter to ICANN later that year, and again in 2012 (jointly with the Senate Judiciary Committee), asking ICANN to bolster its consumer and trademark protection processes.  In response, ICANN effectively ignored this Congressional input, continuing with its plans unabated after instituting meaningless protections in an effort to stave off further inquiries.  It seems clear that those protections are not working, as one of the leading applicants to operate a new ".sucks" registry is offering trademark holders the right to own their trademark name at ".sucks" for $25,000 up-front, plus annual renewal fees.
The Obama Administration should not now hand over one of the major assets of the United States to a irresponsible organization like ICANN with a globetrotting CEO like Fadi Chehadé.  We urge the Senate and House Judiciary Committees to hold robust hearings on this matter to ensure that those around the world who may wish to censor the Internet for their own purposes are not empowered by this decision.  We also encourage the Committees to keep up their pressure on ICANN to slow the implementation of its reckless gTLD expansion program that imposes a new tax the Internet, paid by trademark holders and American consumers.
Sincerely,