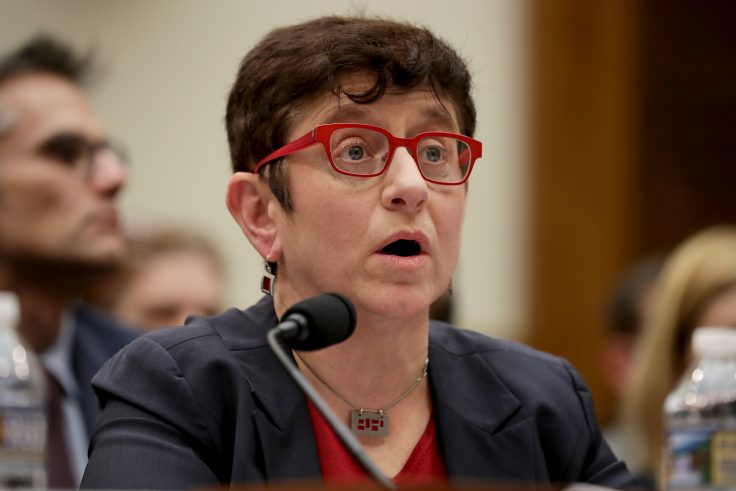 A conservative coalition is calling for senators to reject President Joe Biden's nomination of Gigi Sohn to the Federal Communications Commission, citing her criticism of conservative networks and alleged conflicts of interest with businesses she would oversee as an FCC commissioner.
In a letter sent on Monday to Senate Commerce Committee chairwoman Maria Cantwell (D., Wash.) and ranking member Roger Wicker (R., Miss.), the coalition of 13 advocacy groups raised alarm over Sohn's involvement with Locast, a now-defunct nonprofit streaming service that major broadcast networks sued for illegally streaming their content. The Washington Free Beacon reported last week that Locast skirted a hefty $32 million payout to the networks just one day after Biden announced Sohn—one of the company's three directors—as his FCC pick. Following Sohn's nomination, Locast settled with the networks for just $700,000.
Wicker last week said Locast's settlement raised concerns over Sohn's "future financial liability to a number of companies regulated by the FCC." The conservative coalition agreed, arguing Sohn's "sweetheart settlement" with networks she would regulate on the FCC marks a "pattern of questionable ethics."
"We agree with [Wicker's] concern regarding Sohn's involvement with Locast streaming services, and the possibility of her future financial liability to several companies regulated by the FCC," said the coalition, which includes free market advocates and fiscal conservative groups such as the Center for a Free Economy and the Institute for Liberty. "Even the National Association of Broadcasters publicly noted, 'the ethics agreement that Ms. Sohn submitted to the Senate currently does not adequately address the inherent conflict presented by her recent leadership position at Locast and her potential role as an FCC commissioner.'"
The conservative groups also slammed Sohn for her incendiary remarks targeting conservative networks.
"Sohn has repeatedly called on the shuttering of conservative networks, going as far as calling Fox News, 'state-sponsored propaganda,'" the coalition said. "Then as the New York Post faced suspension for their reporting on Hunter Biden, she publicly claimed, 'anti-conservative bias on online platforms … is a bunch of BS.' This is not how our nation's top regulatory officials should conduct themselves."
The coalition argued Sohn's comments and her connection to the Locast settlement suggest she would not be an impartial commissioner on the powerful agency overseeing communications.
"The FCC is the enforcer of American media and allowing someone with extreme public biases and conflicts of interest to oversee this vital agency is a threat to our country's basic principles of freedom," the conservative groups said. "Americans deserve better."
Sohn's confirmation would give Democrats a 3-2 majority in the FCC, which could swing a vote on net neutrality, the Internet regulations that Trump administration FCC chair Ajit Pai repealed in 2017 and which Democrats have vowed to restore.