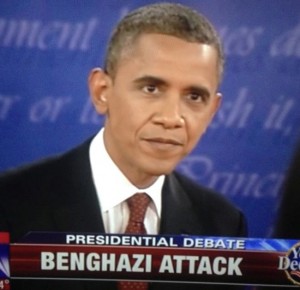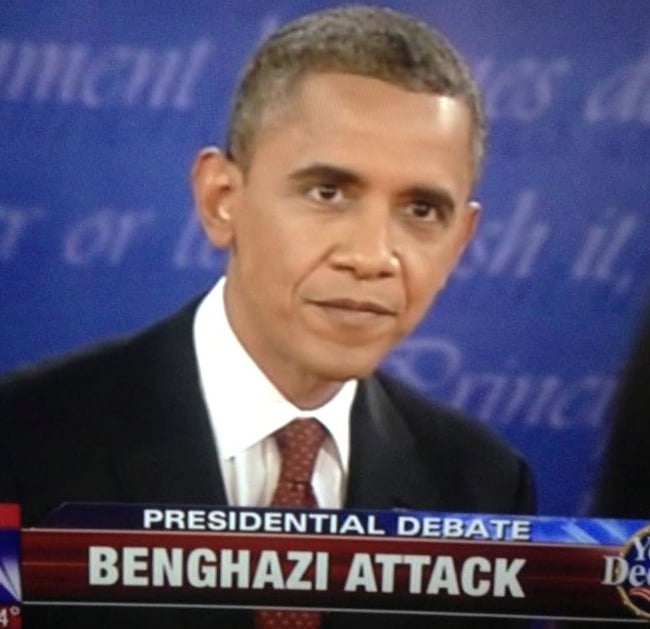 Unequal Time: 
If you want more time to get your message out in debates, it's good to be a Democrat. According to the CNN debate clock, President Obama spoke at greater length than Mitt Romney during both debates, as did Vice President Biden during his debate with Paul Ryan. In the first debate, Obama spoke for 3 minutes, 14 seconds more than Romney — which means he got 8 percent more talking time than Romney. In last night's debate, Obama spoke for 4 minutes and 18 seconds longer than Romney, giving him 11 percent more talking time. During the vice presidential debate, the gap wasn't as wide: Biden spoke for 1 minute, 22 seconds more than Ryan. Still, that gave Biden 3 percent more speaking time than Ryan.
 From Katrina Trinko's article "Bizarre Coincidence: Democrats Get More Time in All Three Debates"
Question Selection Was Absurd:  
There were some painfully stupid questions. For example, with high unemployment, shrinking household incomes, exploding food stamp rolls, the Middle East in flames, and a growing cover-up regarding what is becoming known as the "Benghazi Affair," there was only one question on foreign policy and and an extensive section on gun control which doesn't even register as an important issue in 2012. But the funniest and stupidest question of the night was the one giving Mitt Romney two minutes to explain how he was different from George W. Bush and then giving Barack Obama two minutes ostensibly to explain how he was different from Bush. Of course, it was just two or three minutes of smearing Bush and Romney. If the question were remotely close to fair, it would have asked Obama to explain how he is different from Jimmy Carter. The moderator picked some really stupid questions and they revealed more than a lack of intellectual rigor, they revealed a clear bias.
From George Landrith's article "Second Presidential Debate: Live Coverage & Commentary."
Undecided Voters Continuing to Flock to Romney:
Frank Luntz conducted a focus group comprised undecided voters and a healthy dose of former Obama voters. After the debate, a strong majority of the focus group supported Romney. The focus group members used the following words to describe Romney:  Forceful, compassionate, presidential, confident, realistic, enthusiastic, our next president, dynamo, and winner. Another focus group member who had voted for Obama in 2008, said "[Obama has] lied about everything. He lied to get elected in 2008, that's why I voted for him. I bought his bull. And he's lied about everything, he hasn't come through on anything. And he's been bullshitting the public." Ouch!
From George Landrith's article "Second Presidential Debate: Live Coverage & Commentary."
Moderator's Interruptions:
Candy Crowley, who was suspected of being one more liberal moderator in the tank for Barack Obama, was more than just in the tank for him; she dove in and sucked all the water out for him so he could pretend he walked on water.
In the first presidential debate, Jim Lehrer, no slouch at shilling for the Democratic Party, interrupted Mitt Romney 15 times and Barack Obama only five.
Crowley made Lehrer look like an amateur. She interrupted Obama nine times, (although four of those were when he wouldn't respect the time limit when discussing assault weapons; he went over his time limit all night long), but when it came to Mitt Romney, she was utterly beyond the pale.
Crowley interrupted Romney 28 times. 28 times. Her desperation to keep Romney from scoring points was so patently obvious that it wasn't really a surprise when she had her infamous moment: the moment when she interrupted and falsely claimed Romney was incorrect in accusing Obama of refusing to call the Benghazi attack an act of terror.
From William Bigelow's article "Crowley Interrupts Romney 28 times, Obama just 9."
Worst Moderator in the History of Debates:
When Romney said Obama had not called the attack an act of terror for 14 days, Crowley interrupted and said: "It — it — it — he did in fact, sir. So let me — let me call it an act of terror."
Naturally, Obama asked her to restate her point and she did. "Can you say that a little louder, Candy?" asked the president. "He — he did call it an act of terror. It did as well take — it did as well take two weeks or so for the whole idea there being a riot out there about this tape to come out. You are correct about that," she continued.
Conservatives were outraged, arguing that Crowley's interruption spoiled a key Romney point. They weren't the only ones. Even Politico's Mike Allen called the Crowley point "arguable" and pointed to the transcript of Obama's statement saying it "generally" referred to "acts of terror." CNN's John King called the Obama statement a "generic" comment about terror, not specifically calling the Libya attack a terrorist act.
Afterward, CNN's post-debate analysis team focused heavily on that point and Crowley herself admitted Romney had been right "in the main."
But Crowley also admitted she took her cue to intervene from Obama… After Romney made his point she cut in. "The president kept looking at me, going you … and I thought, well, I did know that, I said, he, you, he did, call it an act of terror."
However, the actual presidential transcript makes it clear that Obama was doing his best to include the word "terror" without actually saying the incident was a terror attack. After mentioning 9/11, Iraq and Afghanistan, the president said: "No acts of terror will ever shake the resolve of this great nation, alter that character or eclipse the light of the values that we stand for." Then he moved on to the Libya attack.
That one moment defined the debate. Crowley, who had come under criticism from both sides prior to the debate, also cut off Romney when he was making a point about the president's "Fast and Furious" gun scandal. And, as in the other two debates, the moderators let the Democratic candidate dominate the clock. This time, according to CNN's own tally, Obama won 44 minutes and 4 seconds to a mere 40 minutes and 50 seconds for Romney.
Crowley was then shown defending herself from earlier in the morning, saying, "I was trying to move this along." "There is no question the administration is quite vulnerable on this topic," she added.
 From Dan Gainor's article "CNN's Crowley first plays umpire, then joins Team Obama."
Moderator's Obvious Bias:
[T]here were numerous instances where Crowley's obvious partisanship prompted her to treat Romney with great disrespect:
1. She wouldn't let him respond when Obama lied about the auto industry. First she called him Mr. Romney instead of governor, then protested, "there'll be plenty of chances here to go on, but I want to… We have all these folks. I will let you absolutely… OK. Will – will – you certainly will have lots of time here coming up." Romney never did get the chance to respond.
2. After the question asking whether gas prices as they stand now are the new normal, Obama got 2 chances to respond. When Romney asked for his second chance, Crowley shut him off by saying, " … in the follow up, it doesn't quite work like that. But I'm going to give you a chance here. I promise you, I'm going to." She didn't.
3. When discussing how he would deal with deductions, just as Romney was about to destroy Obama with statistics, Crowley jumped in to save her man not only by denying the value of statistics, but changing the narrative to say Romney's numbers couldn't possibly add up:
"And Governor, let's – before we get into a vast array of who says – what study says what, if it shouldn't add up. If somehow when you get in there, there isn't enough tax revenue coming in. If somehow the numbers don't add up, would you be willing to look again …"
4. When Romney was trying to make a point of Obama's pension investing in China, Crowley cut him off by insinuating people were tired of him talking:
"Governor Romney, you can make it short. See all these people? They've been waiting for you. Make it short."
Then she really tried to humiliate him with this: "If I could have you sit down, Governor Romney. Thank you." She never asked Obama to sit down.
5. The infamous incident when she interrupted Romney's claim about Obama's refusal to call the Benghazi murders a terror attack:
"It – it – it – he did in fact, sir. So let me – let me call it an act of terror…
Prompted by Obama to say it a little louder, Crowley obliged:
"He – he did call it an act of terror. It did as well take – it did as well take two weeks or so for the whole idea there being a riot out there about this tape to come out. You are correct about that."
6. Just as egregiously, when the question was about assault weapons and Romney naturally started to discuss fast and furious, Crowley quickly shifted him away from that and turned it into an attack on Romney's assault ban position:
"Governor, Governor, if I could, the question was about these assault weapons that once were once banned and are no longer banned. I know that you signed an assault weapons ban when you were in Massachusetts, obviously, with this question, you no longer do support that. Why is that, given the kind of violence that we see sometimes with these mass killings? Why is it that you have changed your mind?'
The fact that Obama escaped all night long by lie after lie didn't seem to disturb Crowley in the slightest. She had her shadowy agenda, and she stuck to it fiercely. Now it is our job to throw her out into the sun where every American can see exactly how dirty she is.
  From William Bigelow's article "Crowley Interrupts Romney 28 times, Obama just 9."