Sen. Jeanne Shaheen targets group that exposed green group coordination
by Lachlan Markay     •      Washington Free Beacon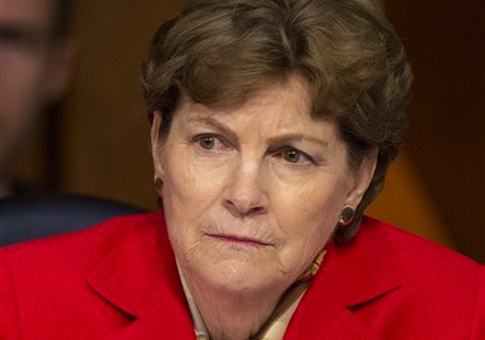 A Democratic Senator will take to the chamber floor on Tuesday to attack a group that exposed her secret collaboration with environmentalist pressure groups in crafting official press statements.
Sen. Jeanne Shaheen (D., N.H.) is scheduled to attack the Energy and Environment Legal Institute on the Senate floor on Tuesday as part of a coordinated PR offensive against conservative and libertarian nonprofit groups.
Nineteen Senate Democrats involved in the effort were tasked with using floor speeches to attack specific groups, which they are branding as parts of a "web of denial" seeking to impede Democratic energy and environmental policies.
Shaheen's floor speech will go after E&E and the Competitive Enterprise Institute, a libertarian nonprofit that has been targeted by state Democratic officials seeking racketeering charges against oil giant ExxonMobil and groups to which it has donated.
Shaheen is expected to denounce both groups as abettors of a conspiracy of "climate denial," in keeping with the theme of her colleagues' efforts. But the senator has a particular history with E&E, which has come after her directly in the past.
In a 2014 report, E&E exposed Shaheen's behind-the-scenes collaboration with green pressure groups and the Environmental Protection Agency.
That collaboration came to light through emails released by the EPA in response to an E&E Freedom of Information Act request. They showed staff from the Sierra Club, a major environmentalist group, working with Shaheen's office to advance controversial EPA regulations.
According to the emails, Shaheen and the Sierra Club worked to craft a press release announcing a "roundtable" discussion featuring the senator on ongoing EPA efforts to restrict carbon emissions.
"We are working with Sen Shaheen's office to have a round table discussion about carbon solutions, such as energy savings programs and projects that will help NH move ahead and would like for [EPA New England administrator Curt] Spalding to talk about the carbon ruling that requires the EPA to regulate carbon," a Sierra Club staffer wrote in one email.
"I do not have the quotation for the senator yet and she will have edits they said, BUT could you look tills over and send a quotation for CS?" the staffer said in a follow-up.
According to E&E's report on the emails, "the end result of this collusion is that Sierra Club helped to write press for Sen. Shaheen's office at the behest of the EPA."
Chris Horner, a senior legal fellow at E&E, pointed to his work exposing that collaboration after the Washington Free Beacon revealed that Shaheen would be going after his group by name.
"I expect she is probably still upset that we exposed her outsourcing her work on the climate campaign to Sierra Club, and the failure by her and her colleagues to enact that agenda through the proper democratic process," Horner said in an email.
"That must be frustrating," he added, but "we are confident the Constitution doesn't have an exemption for the politically frustrated, or for campaigns at the behest of major party donors."
Others targeted by Senate Democrats' "web of denial" floor speeches criticized the effort on Tuesday as an attempt to harass and intimidate groups with which those senators disagree.
"This coordinated campaign would be an assault on free speech even if it were not drenched in conspiratorial inaccuracy," wrote Matt Welch, editor of Reason Magazine, which is published by the Reason Foundation, another target of Senate Democrats.
"Democratic lawmakers, attorneys general, and activists are systematically singling out free-market think tanks for potential criminal prosecution and one-sided disclosure requirements based on the content of the think tanks' research and commentary," Welch wrote. "They are literally trying to criminalize dissent."
The criminalization of these groups' policy advocacy activities is not theoretical. Sen. Sheldon Whitehouse (D., R.I.), the leader of the "web of denial" effort, has spearheaded efforts to bring federal racketeering charges against oil companies and nonprofits that disagree with Democrats' preferred climate policies.
This week's series of floor speeches is designed to bring attention to a Whitehouse resolution demanding that the targets of potential racketeering cases "cooperate with active or future investigations into their climate-change related activities."
The implicit threat of legal action is "one reason this is more sinister than your ordinary political sideshow," according to Walter Olson, a senior fellow at the Cato Institute, another of the Senate Democrats' targets.