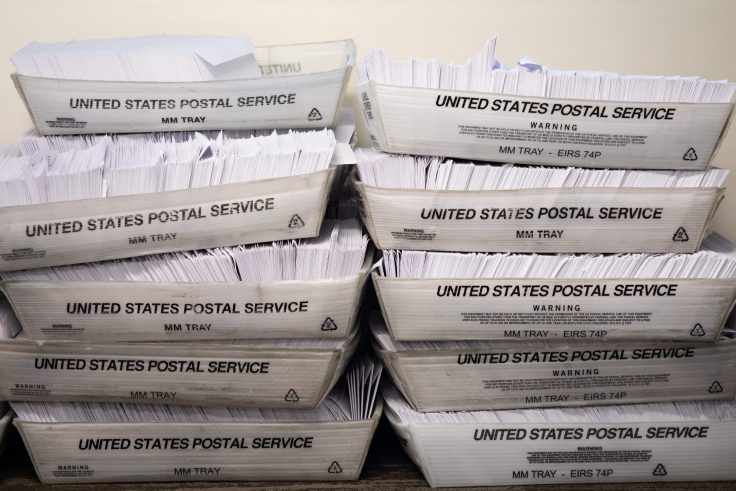 A New Jersey postal worker was arrested Wednesday for dumping almost a hundred mail-in ballots into dumpsters in multiple towns.
The Justice Department charged Nicholas Beauchene, a 26-year-old mail carrier with "one count of delay, secretion, or detention of mail and one count of obstruction of mail" for discarding approximately 1,875 pieces of mail on his route. The discarded mail included "99 general election ballots" and was recovered from dumpsters in two different New Jersey townships.
Beauchene faces a maximum penalty of five years in prison and a $250,000 fine for delay of mail and six months in prison and a $5,000 fine for obstruction of mail. And with weeks left until Election Day, problems with mail-in ballots are flaring up in other parts of New Jersey and across the country, intensifying concerns about errors and fraud affecting results in November.
On Monday, almost 7,000 voters in Teaneck, N.J., received misprinted mail-in ballots that swapped their congressional district's race for a neighboring one, rendering the ballots useless. Bergen County election officials are working to rectify the mistakes and say they will only count corrected ballots that will soon be sent out. They recommended voters shred the misprinted ballots.
These are just the latest problems in the Garden State regarding the efficacy and authenticity of mail-in voting, as elected leaders were charged with fraud in a special election in Paterson this summer. A judge eventually nullified the entire process, ruling that a new vote would take place in November.
New Jersey is also not the only state making news this week for its mishandling of mail-in ballots. Over the weekend in Virginia, mail collection boxes in three different localities were broken into. Virginia election officials announced the break-ins Monday.
"Six outdoor mail collection boxes were broken into sometime between Saturday afternoon and this morning," Virginia officials said in a statement. "At this time, the United States Postal Service is investigating. Neither the Department nor USPS has any information about whether any election mail was contained in the boxes."
Officials urged voters to contact USPS if they dropped mail into the boxes between Saturday afternoon and Monday morning.ADVERTISING
Mail-in ballots are also the subject of various legal battles around the country as Election Day nears.
The Nevada Republican Party asked federal law enforcement to investigate a Culinary Union chapter for illegally tampering with mailboxes while canvassing for Democratic nominee Joe Biden. Republicans are also challenging election officials in Minnesota and Michigan for saying they would allow ballots to be counted past Election Day even if they are not postmarked.