by Rebecca Rainey     •     Daily Caller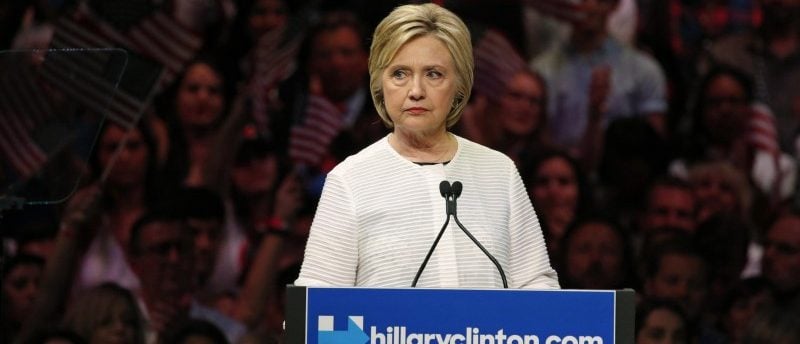 Emails obtained through a Freedom Of Information Act request from the group Citizens United reveal that Department of State staff members expressed "concern" and an urgency to "protect the Secretary's name," after probes from an ABC producer regarding the appointment of Rajiv Fernando, a Hillary Clinton donor, to the International Security Advisory Board under then Secretary of State Hillary Clinton.
Fernando had given "between $100,000 and $250,000" to the Clinton Foundation, a charity founded by former President Bill Clinton, according to a report from ABC News. He had no prior experience handling sensitive government intelligence.
A total of $27,600 was donated to various Democratic campaigns in 2008 from various donors employed at Chopper Trading, a company Fernando founded in 2002, according to Opensecrets.org.
State Department staff member Jamie Mannina wrote in a August 2011 email, "As you can see from the attached, it's natural to ask how he got onto the board when compared to rest of the esteemed list of members."
On Aug. 16 2011, Mannina also expressed concern to Wade Boese, who was at the time chief of staff for the Office of the Under Secretary of State for Arms Control and International Security, stating that the reporter was "connecting all his dots." Boese responded by saying "we need to hold off on responding until at least tomorrow afternoon."
Another staff member Matthew Mosk responded to the thread saying, "This is a detail we would like to sew up fairly soon… If you can get me some background today, that would help. Right now, the only thing put out on his is that he is CEO of a Chicago trading firm, which doesn't exactly explain how he fits into a board of renowned experts on military, diplomatic, and political matters. But I assume there's lots about him I don't know."
On Aug. 17 2011, Fernando submitted his letter of resignation directly to Clinton, stating that "the unique, unexpected, and excessive volatility in the international markets these last few weeks and months require me to focus my energy on the operations of my company."
The board "provides the Department with independent insight and advice on all aspects of arms control, disarmament, nonproliferation, international security, and related aspects of public diplomacy," according to the Department of State website.
According to Raj Fernando's LinkedIn page, his profile totes a resume filled with experience from various trading groups, including Chopper Trading.
His top skills are listed as "trading" and "trading systems."
His resume also mentions his service on"the Foreign Policy Program Leadership Committee at the Brookings Institution" and working on "the board of directors for the American Security Project."
The Department of State website describes board members as "national security experts with scientific, military, diplomatic, and political backgrounds."