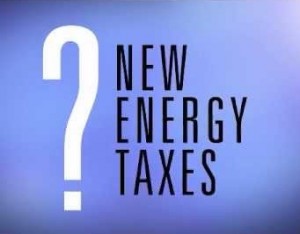 The agency didn't mention it in the new climate rules, but the plan would allow states to place a levy on greenhouse gases.
by Ben Geman
EPA's big new draft regulations to cut power-plant carbon dioxide emissions name-check all kinds of tools that states can use to comply with the standards.
They include renewable-power growth, efficiency programs, switching coal plants to natural gas, and cap-and-trade initiatives, which are already underway in California and among Northeastern states. Not mentioned: Imposing state-level carbon taxes on power-plant emissions.
It's not something the agency is likely to tout at a time when top Republicans are already trying to frame the whole rule as a "national energy tax." But EPA officials, when asked, made it clear Monday that a state could indeed choose to go the carbon tax route.
"EPA is not really putting limits on measures states can choose," as long as they lead to compliance with the required emissions rates, an EPA official said on a call with reporters about the rule that's a pillar of the White House climate agenda.
State-level carbon taxes have not taken off. But some advocates are hopeful that the EPA rules, which task states with creating plans to curb their power sector emissions, present a new opportunity.
A left-right coalition of activists has for years been waging a very steep uphill fight for a carbon tax at the national level, arguing that it's the most straightforward way to address emissions. Some advocates say it should be paired with reductions in personal taxes.
Tyson Slocum of the liberal watchdog group Public Citizen said the ad hoc coalition will now push the idea with states, too. "You are absolutely going see that communicated to states as they work thorough this process" of crafting plans to comply with the EPA rules, said Slocum, director of Public Citizen's energy program.
Experts with Stanford University and the Brookings Institution recently wrote a paper calling on EPA to offer states the option of exploring carbon taxes as a way to meet the agency's requirements.
Nationwide, the rules seek to curb carbon emissions from electricity generation, which accounts for roughly 40 percent of U.S. carbon pollution, by 30 percent compared with 2005 levels, by 2030.
.     .     .     .     .     .     .     .     .     .     .     .     .     .     .     .     .     .     .     .
Ben Geman is the Energy and Environment Correspondent at the National Journal.