Bureau whistleblowers are claiming that the FBI is using the January 6 riot at the Capitol as a pretext to perform a political purge of agents. This purge targets FBI agents and other employees who simply exercised their constitutionally protected rights and attended the January 6 rally — and committed no crimes.
"The employees did not enter the United States Capitol and have not been charged with any crime" but are allegedly still being fired, said the House Judiciary GOP in a Twitter post on Friday, citing unnamed whistleblowers at the Bureau.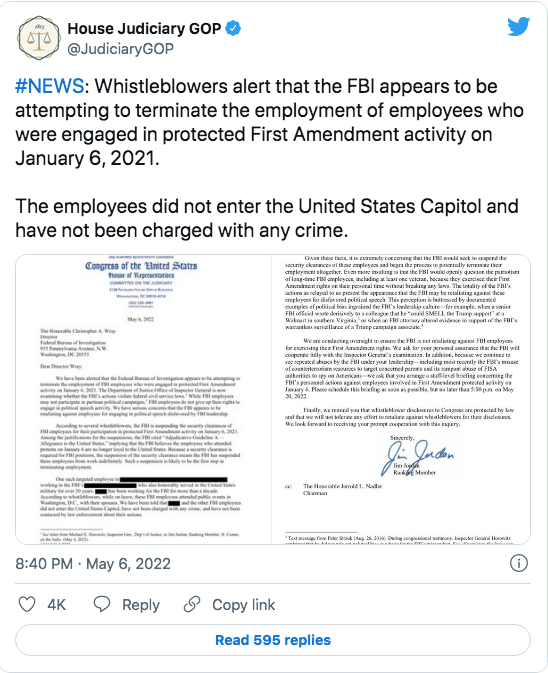 In response to a letter from Republican lawmakers to the FBI Director Christopher Wray — signed by House Judiciary Ranking Member Rep. Jim Jordan (R-Ohio) — the congressmen confirmed reports that the Department of Justice's Inspector General's (DOJIG) office is considering investigating whether the FBI revoked the security clearances of agents who simply attended the rally last year.
As most who have worked in federal law enforcement or intelligence know, revoking security clearances makes it impossible to do the job. As the letter notes, "these actions [revoking clearances] mean the FBI has suspended these employees indefinitely."
On Thursday Fox News noted that:
…the FBI revoked their clearances, citing "Adjudicative Guideline A – Allegiance to the United States. This move appears to follow a Democratic tactic in conflating peaceful protesters on Jan. 6 with those who actively stormed the Capitol in an apparent attempt to prevent Congress from certifying the Electoral College vote for President Biden.
Fox News also reported that the DOJIG Michael Horowitz told House Judiciary Ranking Member Jim Jordan (R-Ohio) and Chairman Jerrold Nadler (D-N.Y.) in a reply letter that his office "will ask the FBI to provide the bases for the security clearance and personnel actions taken against the employees you reference in your letter."
The IG added: "In making such an assessment, we will also consider information about other employees who believe the FBI has taken administrative actions against them for engaging in protected activities on January 6, 2021." 
While the Hatch Act prohibits FBI and other government employees from engaging in partisan political campaigns or political management, The Epoch Times reported that Friday's letter noted that despite the Hatch Act:
FBI employees do not give up their rights to engage in political speech activity. We have serious concerns that the FBI appears to be retaliating against employees for engaging in political speech disfavored by FBI leadership.