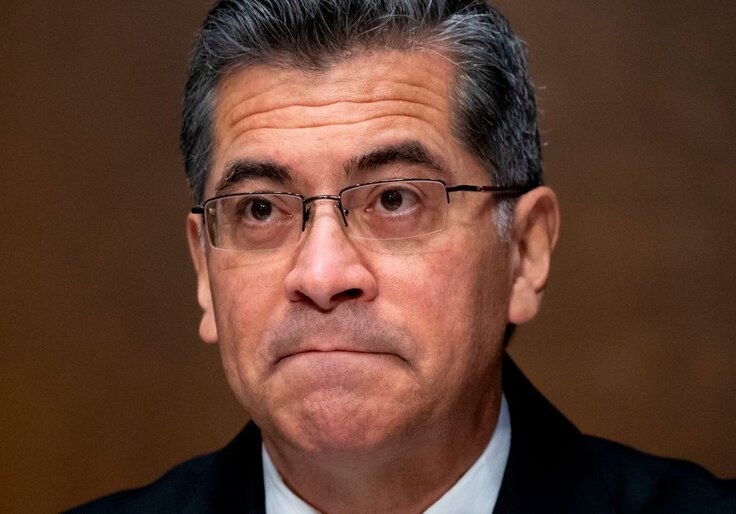 The Florida Department of Health slammed the Biden administration for promoting transgender treatments for minors, accusing the White House of "injecting political ideology into the health of our children."
The Sunshine State on Wednesday released health guidelines that dispute the Department of Health and Human Services declaration last month that "gender-affirming" treatments, including puberty blockers, hormone therapy, and sex-reassignment surgery, are "crucial" for the well-being of transgender children. The Florida Department of Health says the latest medical research undermines the Biden administration's claims about the practices, calling "into question the motives of the federal HHS."
"The federal government's medical establishment releasing guidance failing at the most basic level of academic rigor shows that this was never about health care," Florida surgeon general Joseph Ladapo said in a statement Wednesday. "It was about injecting political ideology into the health of our children. Children experiencing gender dysphoria should be supported by family and seek counseling, not pushed into an irreversible decision before they reach 18."
HHS did not respond to a request for comment.
Arkansas last year became the first state to ban hormone therapy for minors, but lawsuits from liberal legal groups including the American Civil Liberties Union have blocked the state from enforcing the legislation. Arizona and Alabama passed similar bans this year but also face legal challenges from the ACLU and LGBT advocacy groups.
The Florida legislature attempted to pass a ban on hormone treatment for minors this year but the bill has stalled. The Florida Department of Health guidance advises against hormone treatments for minors but does not enforce any restrictions on the hormone drugs, which are not approved by the FDA.
"Physicians may use guidance from different authoritative sources, including government entities and professional associations, in determining the best course of treatment for their patients," Jeremy Redfern, the press secretary for the department, told the Washington Free Beacon.
The department noted that a 2015 paper published in the International Review of Psychiatry found 80 percent of people who seek transgender therapy lose their desire to identify as the opposite sex. A 2018 study in the American Academy of Pediatrics found that there is "low-quality" evidence in favor of transgender treatment for adolescents and that future research is needed to accurately assess the risks or benefits. Several other studies concluded there are no clear benefits of gender transitions for adolescents.
While the Biden administration has embraced hormone treatment for children—White House press secretary Jen Psaki called it "life-saving" during a press conference this month—other countries have moved to restrict the practice. The High Court in the United Kingdom ruled in 2020 that minors under the age of 16 need permission from a court to receive hormone treatment. France's National Academy of Science in March warned medical professionals to exercise "great caution" in prescribing the treatments, citing the permanent health risks of hormone treatment and surgery.
To promote gender transitions for minors, the White House and HHS cited a study from an LGBT group funded by a hormone-drug manufacturer, the Free Beacon reported earlier this month.