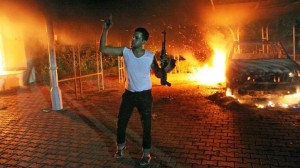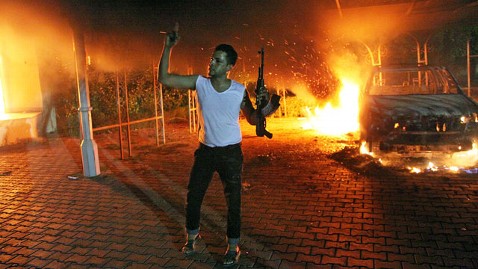 by Frances Martel
U.S. officials told the Washington Post that Abu Sufian bin Qumu, a former Guantánamo Bay detainee and leader of a paramilitary group with al-Qaeda ties, had a role in the Benghazi embassy attacks on September 11, 2012.
Qumu, currently a leader of a wing of the Libyan paramilitary group Ansar al-Sharia, is being linked, along with his militiamen, to the attack on the Benghazi consulate. The Post notes that many eyewitnesses noted the group's presence in Benghazi days before the attack–despite being natives to the city of Darnah–and Qumu's presence specifically. Reuters reports that the group's presence in Benghazi after being kicked out in the post-September 11, 2012 days was noted as recently as last February, with many anti-Gaddafi Libyans arguing that Ansar al-Sharia's role in toppling the dictator grants them a certain license to roam freely despite their overt violence and Islamic fundamentalism. The State Department is set to designate Ansar al-Sharia a terrorist group in the coming days and link its activities to the broader, less structured, post-bin Laden al-Qaeda.
Qumu has an extensive history with Islamic extremism in the region. The Post notes that he served ten years in prison under Gaddafi after serving as a tank driver in the Libyan military. Guantánamo Bay documents released by Wikileaks show that he has a "long-term association with Islamic extremist jihad and members of al-Qaida and other extremist groups." The documents show he trained under Osama bin Laden in a training camp once escaping a Libyan prison and traveling to Pakistan and Afghanistan. They also note that he has a "non-specific personality disorder" and tuberculosis but "refuses treatment" for it.
A little more than a year before the attack on the Benghazi consulate, the New York Times–whose report arguing that al-Qaeda had no role in the attack sparked fury among many experts who suggest otherwise–profiled Qumu as a "U.S. ally of sorts," admitting that if he seemed an ally in the face of Muammar Gaddafi, it was "a remarkable turnabout resulting from shifting American policies rather than any obvious change in Mr. Qumu." Qumu, the article notes, had trained in a Bin Laden-led jihadi camp and had known ties to al-Qaeda but was occupied with overthrowing Gaddafi, who had sentenced him to a decade in jail early in his militant career. Another militant interviewed in the piece, Abdul-Hakim al-Hasadi, distanced himself from Qumu while insisting that the anti-Gaddafi rebels had nothing to do with al-Qaeda, possibly knowing of Qumu's legacy.
David Kirkpatrick's report in the Times this month also explicitly suggests that "neither Mr. Qumu nor anyone else in Derna appears to have played a significant role in the attack on the American Mission."
The Post's revelation ends with an anonymous, somewhat pessimistic comment from a State Department official that suggests that "we will never be able to know what motivated everyone involved in this attack," and that even figuring out how much planning went into the murders and destruction of the consulate is a major challenge. The presence of a prominent former Guantánamo detainee with ties to al-Qaeda seems to suggest, however, that this was no mere riot over a YouTube video orchestrated by a random assortment of locals.
.     .     .     .     .     .     .     .     .     .     .     .     .     .     .
Frances Martel is a writer with Breitbart.