by Morgan Chalfant     •     Washington Free Beacon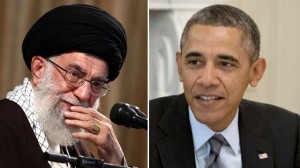 Two Republican congressmen are demanding the Obama administration release the full details regarding the "secret side deals" of the Iran nuclear arms agreement, accusing the president of breaking the law by refusing Congress access to such documentation.
After penning a letter to Obama on the subject and receiving no response, Sen. Tom Cotton (R., Ark.) and Rep. Mike Pompeo (R., Kan.) wrote an op-ed in the Wall Street Journal Sunday blasting the administration for refusing to provide information about Iran's undisclosed agreements with the International Atomic Energy Agency (IAEA), which is responsible for ensuring that Tehran abides by the stipulations in the finalized deal.
The Republican congressmen accuse Obama of "plainly violat[ing]" the Iran Nuclear Agreement Review Act, a law he signed in May before the final deal was reached in Vienna that requires congressional lawmakers view all documents of the nuclear agreement–specifically including those reached on the "side."
The administration has, nevertheless, been slow to acknowledge the existence of such side deals and unclear as to whether Obama officials have even reviewed them. The secret agreements have to do with the IAEA's inspection of the Iran military facility believed to have housed nuclear testing as well as the extent to which Tehran must admit to the details of its alleged nuclear weapons program.
Congressional lawmakers, who have 60 days to approve or reject the deal, have expressed worry that such side deals will make it impossible for the United States to ever address all suspicions regarding the country's nuclear program. In contrast, the Obama administration has insisted that a conclusive investigation on Iran's past nuclear work is not necessary to verify the current deal.
Cotton and Pompeo called Obama "irresponsible" for accepting secret side deals on issues that could have critical implications for the agreement, demanding the administration provide Congress with all relevant documentation.
"When he announced his nuclear deal with Iran on July 14, President Obama said, 'This deal is not built on trust, it is built on verification,'" they wrote. "Those words are hollow unless Congress receives the full text of all documents related to the nuclear agreement."
A majority of House lawmakers now back a resolution to kill the nuclear arms agreement with Iran. Meanwhile, Americans overwhelmingly oppose the agreement by a 2-to-1 margin.
President Obama has tirelessly defended the deal, vowing to veto any effort by Congress to reject it.