Some things never change. The corrupt media peddles false narratives, Big Tech censors conservatives for "disinformation," and Republican Sen. Chuck Grassley absolutely takes them to town for it.
That's what happened during a floor speech on Thursday when the Iowa lawmaker tore into tech companies and the corporate media for colluding to censor conservative viewpoints, especially those that threaten Democrat narratives such as the Russia collusion hoax. Grassley was personally irked after Facebook flagged one of his posts linking to a Fox News article as "false information."
It was an article about new allegations against the Hillary Clinton campaign and its associates that were brought to light in Special Counsel John Durham's Feb. 11 federal court filing. It cited Durham's filing directly, as well as a former chief congressional investigator who became acutely knowledgeable about the situation while working on the Trump-Russia probe for the House Intelligence Committee under California Republican Rep. Devin Nunes.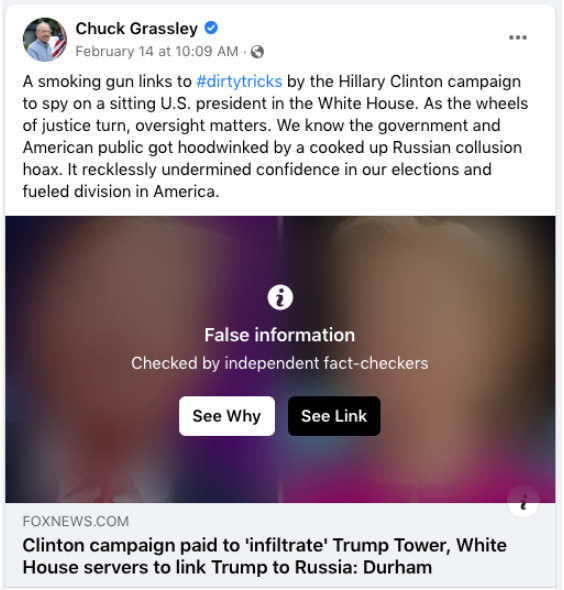 "Why does Facebook and one of its third-party fact-checker partners get to make the decision that this news article is considered false information?" Grassley asked. "That decision should be made by the American people who should be able to view that content and decide for themselves. It shouldn't be decided by our Big Tech overlords who seem to only find fault with content that is conservative or goes against the liberal narrative."
Though useful idiots will retort that Facebook, Twitter, YouTube, and the like don't single out conservatives for censorship, the evidence suggests otherwise. Just this week, Twitter allowed the private information of people who had donated to the Canadian Freedom Convoy to spread on its site after a leftist hacked GiveSendGo and doxxed them. Yet Twitter cited its hacked materials policy as the justification for censoring the bombshell Hunter Biden laptop story right before the 2020 election, despite no evidence of hacking.
As Grassley mentioned, these are also the same tech and media companies that amplified the Steele dossier and broader fake Russia collusion narrative for years, and that are now "doing the bidding for the Clinton camp."
"Why are they so afraid of reporting that exposes the Russia collusion hoax?" Grassley asked the question to which we already know the answer. It's the massive hoax they staked their reputations and careers on and which has since unraveled piece by piece.
"This wouldn't be an issue today if more journalists did their job of being the police of our society and reported on all investigations not just ones that appeal to a certain political party," Grassley said. "What kind of message does this censorship send to a reporter who does take on the new allegations against the Clinton campaign and its associates and its labeled disinformation?"
It's time to rethink Section 230 of the Communications Decency Act, Grassley prescribed, referring to the provision that grants tech monopolies immunity regarding its users' content. Big Tech has weaponized the provision, however, using it in its ideological purges of what it calls "misinformation" and "dangerous" content.
"It has become increasingly clear that these dominant platforms controlling discussion and dialogue are more beholden to cancel culture and not to the fundamental free speech principles that this country was founded upon," Grassley said. "…Simply put we deserve better than woke monopolists and their liberal lapdogs deciding what we can discuss."