by Chuck Ross     •     Daily Caller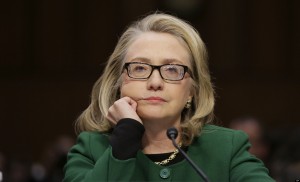 Highly sensitive spy satellite information concerning the movement of North Korean nuclear weapons made its way from classified channels to Hillary Clinton's personal email account, intelligence sources have told The Washington Times.
The movement of the classified information across Clinton's private email server — which was registered to the former secretary of state's home in New York — marks what could be the first major national security breach so far in the ever-growing scandal over her email setup.
According to The Times, in July, the Intelligence Community inspector general flagged the email as possibly containing information that originated with the National Geospatial-Intelligence Agency, which manages satellite and mapping systems.
Last month, the FBI seized Clinton's server, which was housed at a New Jersey data center. The agency also took control of three thumb drives containing Clinton's emails. The devices were in the possession of Clinton's attorney.
In the case of the spy satellite information, the Intelligence Community believes that a State Department employee received it through classified channels but then summarized it on a nonclassified agency computer. The email was then sent to Clinton's top aides before being forwarded to Democratic presidential candidate's private email account, [email protected]
According to The Times:
The compromised information did not include maps or images, but rather information that could have been derived only from spy satellite intelligence.
It was not marked as classified, but whoever viewed the original source reports would have readily seen the markings and it should have been recognized clearly by a trained employee who received the information subsequently as sensitive, nonpublic information. Intelligence community professionals are trained to carry forward these markings and, if needed, request that the information be sanitized before being transmitted via non-secure means.
Spy satellite information is considered some of the most sensitive national security information generated by the federal government. It is frequently classified as "top secret" and given the caveat "Talent Keyhole."
Intelligence sources told The Times that the inclusion of spy information related to North Korean nukes on Clinton's nonclassified home-brew email system is of special concern given the communist regime's massive cyberhacking army.
The Intelligence Community inspector general has also flagged an email sent to Clinton containing "top secret" information when the record was created. That email included information related to U.S. drone strikes in Pakistan.