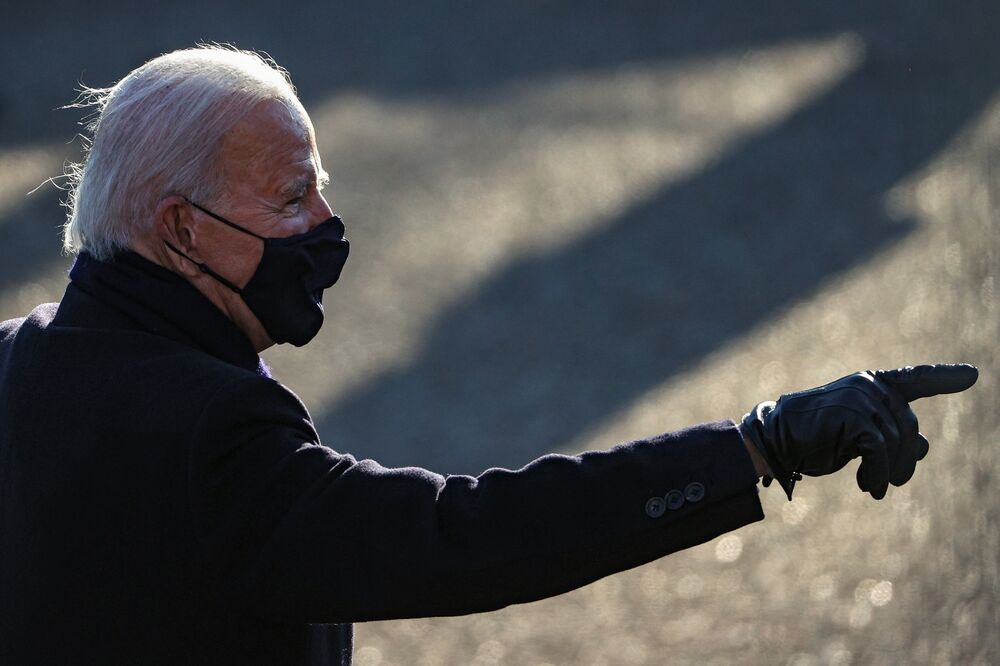 A president elected at a time of deep national crisis generally has an advantage over one elected when things are going fairly well. Franklin D. Roosevelt was sworn in shortly after the Great Depression reached its nadir. Harry Truman became president in the final, bloodiest phase of World War II. Richard Nixon inherited Vietnam and domestic turmoil from Lyndon B. Johnson. Barack Obama entered the White House in the depths of the global financial crisis.
All four had their ups and downs, but all were re-elected. If you take over at a dark time — especially if it's just before the dawn — the chances are you'll be able to play "Happy Days Are Here Again" when you run for a second term.
In a similar way, Joe Biden took the oath of office last Wednesday as the third and biggest wave of the Covid-19 pandemic appeared to be nearing its crest, a year after the Chinese government belatedly acknowledged the seriousness of the disaster that had begun in Wuhan. Like many new administrations since Roosevelt's in 1933, the Biden administration now seeks to impress us with a hundred days of hyperactivity, beginning with 17 executive actions on Inauguration Day. Coming soon: a $1.9 trillion stimulus bill.
In truth, the vaccination program already underway, combined with the naturally acquired immunity of people previously infected with the virus, would probably get the U.S. close to herd immunity by the summer, even if Joe Biden spent the next six months just riding his Peloton. And the economy would roar back to something like normal service as the pandemic ended even if Republicans had retained control of the Senate and blocked further fiscal support.
In short, Joe Biden, who starts out with a 68% approval rating, according to Gallup, ought to be even more popular by Memorial Day — not just twice as popular as Trump was throughout his term, but up there with the most popular presidents since polling began: Truman on VJ Day, John F. Kennedy in his first 100 days, George H.W. Bush after the Gulf War, George W. Bush after 9/11 — the exclusive 80%-plus Approval Club.
I suspect it won't happen. Why? According to legend, the British Prime Minister Harold Macmillan once replied to a journalist who had asked what his biggest problem was: "Events, dear boy, events." (The phrase Macmillan really used, according to the historian David Dilks, was "the opposition of events.") The Donald Rumsfeld equivalent was "stuff happens" — stuff like the chaos into which Iraq descended in 2003, dragging his boss's popularity down with it.
Sometimes events are beyond a new president's control. Sometimes they are unforced errors of his own making. But presidents don't simply make history. Often, history comes at them fast.
So enthusiastic are most journalists about the new administration that much coverage of last week's inauguration recalled late Soviet Pravda. Indeed, I have never been more persuaded by the historian Harold James's mischievous suggestion last year that the U.S. has entered its "late Soviet"phase. (The young Oxford philosopher Jacob Reynolds nailed it.) Example:
Reporter: Will [Biden] keep Donald Trump's Air Force One color scheme change?

Biden Press Secretary Jen Psaki: This is such a good question!
In the hope that it won't get me banned from Twitter and Facebook for sedition, I am going to suggest some of the events that could plausibly blow the Biden administration off course in the coming months.
First, a few past examples. No sooner had Truman achieved victory over Japan than the U.S. was gripped by a wave of strikes by everyone from oil workers to elevator operators, as the unions seized the opportunity of peacetime to flex their muscles. Workers at General Motors downed tools for three months. "The Congress are balking, labor has gone crazy and management isn't far from insane in selfishness," Truman complained to his mother. Speaking at a Gridiron Club dinner in December 1945, Truman half-joked that William Tecumseh Sherman had been wrong: "I'm telling you I find peace is hell."
Not long after turning the White House into Camelot with one of the great inaugural addresses, Kennedy was persuaded by the director of central intelligence, Allen Dulles, to launch Operation Zapata, an attempt to overthrow Fidel Castro in Cuba. The venture ended in abject failure at the Bay of Pigs on April 20. "We really blew this one," fumed Kennedy. "How could that crowd at CIA and the Pentagon be this wrong?" The administration had been "revealed as if no more than a continuation of the Eisenhower-​Dulles Past," lamented Kennedy's court historian, Arthur Schlesinger Jr. "We not only look like imperialists, we look like ineffectual imperialists, which is worse; and we look like stupid, ineffectual imperialists, which is worst of all."
Having succeeded to the presidency following Kennedy's assassination, Johnson soon embarked on an escalation of the U.S. involvement in Vietnam. The authorization Johnson sought from Congress after the Gulf of Tonkin "incident" in August 1964 — to take "all necessary measures to repel any armed attack against the forces of the United States and to prevent further aggression" — was a crucial step down the path that would destroy his presidency.
Exaggerating the evidence that the Navy destroyer Maddox had come under attack, Johnson seized the opportunity to outflank his Republican rival Barry Goldwater. "I'll tell you what I want," he snapped at a breakfast with congressional leaders. "I not only want those patrol boats that attacked the Maddox destroyed, I want everything at that harbor destroyed; I want the whole works destroyed. I want to give them a real dose."
Escalation in Vietnam was one the greatest unforced errors in American history. It might not have happened if Kennedy had lived. Conversely, think how different history might have been if Ronald Reagan had not survived the assassination attempt by John Hinckley Jr., which occurred just over two months after Reagan's inauguration. Events, dear boy.
Often the first year of an administration is marred by turf wars and infighting. In Bill Clinton's case, there was a turbulent contest for influence between those, such as the Democratic strategist Paul Begala, who had been close to Clinton on the campaign trail the previous year, and those, such as the former Republican David Gergen, who were brought in to provide some administrative experience midway through the first year in office.
The great unforced error of Clinton's first year, vividly described by Bob Woodward in "The Agenda," was the decision to let First Lady Hillary Clinton drive health-care reform, which she proceeded to do — into a brick wall of congressional opposition. Barack Obama arguably made a similar mistake in his first term when he opted to prioritize health-care reform instead of focusing exclusively on economic recovery.
Joe Biden has one advantage over all his predecessors: No one has come to the highest office in the land with more experience than the man who was first elected to the Senate in 1972, at the age of 29. Re-elected six times to represent Delaware, Biden also served two terms as vice president.
It therefore seems reasonable to assume that he will know to avoid at least some of these pitfalls — especially as he must be keenly aware of how historically slim his party's control of Congress is. Naive analogies between Biden and Roosevelt or Johnson overlook the stark reality that the Democrats had 59 Senate seats and 313 House seats in 1933, and 68 Senate seats and 295 House seats in 1965 — compared with just 50 Senate seats and 222 House seats today.
Given these narrow majorities, and after an inaugural address that featured the words "unity" or "uniting" no fewer than 11 times, you may be looking forward to a glad, confident morning of bipartisan cooperation. I am sorry to disappoint you, but that's not going to happen, either. Not only do the Republican Senate and House minority leaders, Mitch McConnell and Kevin McCarthy, almost certainly intend to rerun the successful Obama-era strategy of opposing every move the Democratic administration makes. Team Biden has also lost no time in providing them with ammunition.
Some of Biden's executive actions on Day 1 were unobjectionable, but the fact that six out of 17 were essentially measures to liberalize the immigration system was telling, as were the remarks on that subject made last week by Biden and Vice President Kamala Harris. Announcing a plan to give all illegal immigrants a pathway to citizenship seems like one easy way to reunite an opposition party that Donald Trump seemed to have divided irreparably by his reckless rabble-rousing just two weeks ago.
Two steps in the same direction are the "woke" executive orders announced last Wednesday. The one "On Advancing Racial Equity and Support for Underserved Communities Through the Federal Government" tells all federal institutions and agencies "affirmatively [to] advance equity, civil rights, racial justice, and equal opportunity … [by] embedding fairness in decision-making processes." The other, "On Preventing and Combating Discrimination on the Basis of Gender Identity or Sexual Orientation," will (according to some conservative commentary) require federally funded schools to allow transgender athletes who were born male but identify as female to compete in women's sports and for women's scholarships.
For the people who hate Trumpism and wokeism in equal measure, last Wednesday was pure whiplash.
These are not so much forced errors as conscious choices born of the Biden administration's central policy dilemma. The fiscal and monetary policies favored by its economics team — deficits and quantitative easing as far as the eye can see — will widen the country's already wide inequalities by cranking up further the prices of real estate and financial assets. Conveniently for Biden, the left wing of the Democratic Party cares more about identity politics than working-class living standards, so they will be fed a steady diet of green new dealing, critical race theory and transgender rights. Welcome to the ESG administration, where environmental and social virtue-signaling will provide a smokescreen for the inexorable growth of shareholder value.
That Republicans will oppose all this is a predictable "gray rhino,"something Team Biden must see coming. The same applies to another impending Harold Macmillan event, namely the deterioration of the public-health crisis in the coming weeks as new strains of SARS-CoV-2 spread across the U.S. The B.1.1.7 variant, first detected in England late last year, has already been found in 12 states. It is between 50% and 70% more infectious as earlier strains of the virus. On Friday, U.K. Prime Minister Boris Johnson suggested it may also be more deadly.
Michael Osterholm, director of the Center for Infectious Disease Research and Policy at the University of Minnesota, and a member of the Biden transition team, spoke last week of "a perfect storm," telling Bloomberg: "When this B.1.1.7 takes off, it's going to be hell. That's what they're walking into right now. I hope I'm wrong. God, I hope I'm wrong."
Biden's public health team will be scanning anxiously the data from the U.K. and from Israel, where races are currently underway between high-speed vaccination programs and the rapidly spreading new strain of the virus. They will be watching even more nervously the news from South Africa, where another new strain has been re-infecting people who had previously had Covid.
According to a sobering report published on Jan. 18 by the South African National Institute for Communicable Diseases: "People who have recovered from SARS-CoV-2 infection are usually protected from being infected a second time … because they develop neutralizing antibodies that remain in their blood for at least 5-6 months … These antibodies bind to specific parts of the spike protein that have mutated in the new variant (K417N and E484K). We now know that these mutations have allowed the virus to become resistant to antibody neutralization. The blood samples from half the people we tested showed that all neutralizing activity was lost."
It is too early to tell just how bad this news is. What is clear, however, is that SARS-CoV-2 is evolving in ways that threaten our current strategy of vaccination, and that it will continue to do so for as long as the southern hemisphere countries lag behind the developed northern countries in the quantity and quality of vaccines available.
One president, Trump, has already caught Covid-19. Even under normal circumstances, Joe Biden's health would be a concern. At 78, he is older than Ronald Reagan was at the end of his presidency. The most recent Social Security Actuarial Life Table (for 2017) states that a man Biden's age has a 4.8% probability of dying within a year. Around two-fifths of his contemporaries are dead already. Now add Covid into the mix. Thus far, according to the Centers for Disease Control and Prevention, 59% of U.S. deaths from the pandemic  have been of people older than 74.
Events, dear boy, events. What happens when you announce your plan to relax immigration restrictions and give illegal immigrants a pathway to citizenship? The answer is that the flow of would-be migrants increases. The number of detentions on the Arizona-Mexico border was already rising last fall. A "caravan" of 9,000 Hondurans is currently making its way northward through Guatemala.
What happens when you come to power after a wave of protest in support of Black Lives Matters that was marred by violence, vandalism and looting, and when at least some members of your party expressed sympathy with slogans such as "Defund the Police"? The answer is that you inherit a wave of violent crime that has seen homicide numbers jump by more than 50% in six major cities: Atlanta, Boston, Chicago, New Orleans, Portland and Seattle.
Finally, and perhaps most importantly, what happens when, despite your obvious contempt for your predecessor, you largely adopt the single most important part of his foreign policy? For all his manifest defects of character, Trump was right to change the direction of U.S. policy toward China — to abandon the fantasy that integration into the global economy was going to liberalize the Chinese Communist Party, and to mount a multifaceted challenge to Xi Jinping's bid for world power.
On this issue, the Biden administration intends to continue where Trump left off. Incoming secretary of state Antony Blinken told senators at his confirmation hearing last week, "There is no doubt that [China] poses the most significant challenge of any nation-state in the world to the United States."
Asked if he agreed with his predecessor Mike Pompeo that China was committing genocide against its Uighur population, Blinken replied: "That would be my judgment as well. I think we're very much in agreement." Was he open to imposing trade sanctions in connection with that genocidal policy? Yes. Did he support the move by Pompeo to relax restrictions on official dealings with Taiwan? "I want to see that process through to conclusion if it hasn't been completed," replied Blinken.
Even more remarkable was the article published by Kurt Campbell in Foreign Affairs on the eve of the announcement that he would be the "Asia czar" on the National Security Council. "The United States needs to make a conscious effort to deter Chinese adventurism," wrote Campbell and his co-author, Rush Doshi, who is also contending for an NSC job:
This means investing in long-range conventional cruise and ballistic missiles, unmanned carrier-based strike aircraft and underwater vehicles, guided-missile submarines, and high-speed strike weapons. … [The U.S.] also needs to work with other states to disperse U.S. forces across Southeast Asia and the Indian Ocean … [and] to reshore sensitive industries and pursue a "managed decoupling" from China. … Washington will have to work with others to … collectively design penalties if China decides to take steps that threaten the larger order.
Having argued since 2019 that we are waging Cold War II against China, I naturally welcome this tough language. But it is worth reminding ourselves that China is not a passive object of American foreign policy. Within minutes of Biden's swearing-in as president, the government in Beijing announced personal sanctions against 28 Americans who served in the Trump administration, including Pompeo — not only barring them and their families from entering China, but prohibiting any "companies and institutions associated with them … from doing business with China." Blinken's former colleagues at his consulting firm, WestExec Advisors, may be nervously wondering what this might one day mean for them.Opinion. Data. More Data.Get the most important Bloomberg Opinion pieces in one email.EmailSign UpBy submitting my information, I agree to the Privacy Policyand Terms of Service and to receive offers and promotions from Bloomberg.
The first Cold War was not the stable equilibrium of mutually assured destruction it now appears with the benefit of hindsight. It was one damned crisis after another, with the worst over Korea in 1950, Berlin in 1961 and Cuba in 1962. Something similar will be true of Cold War II. Even when Chinese-American relations were good — back in the days of "win-win" economic interdependence — there were crises.
On April 1, 2001, when George W. Bush was just 10 weeks into his presidency, a U.S. Navy signals intelligence aircraft collided with a Chinese fighter jet about 70 miles off the island of Hainan, where the American spy-plane was forced to land. The 24 crew members were detained for 10 days, during which they were interrogated. The Chinese fighter pilot was killed in the collision.
Twenty years ago, both sides had strong incentives to defuse the crisis, and American expressions of "sorrow," interpreted by Beijing as "sorry," sufficed. But would the same be true today in the event of a comparable collision in the air or at sea? I think not. In 2001, the Chinese economy was 13% the size of the American in current dollar terms, compared with 75% today. And unlike Cold War I, which was fundamentally a transatlantic conflict, with Europe as its major battleground and the Caribbean as a sideshow, Cold War II is transpacific, with East Asia as the major battleground.
At some point in the Biden presidency, I expect, there will be a crisis over Taiwan, North Korea or the South China Sea. And that will be the main event — the moment when we discover if the strange pageant we saw last week was morning in Joe Biden's America, or the twilight of the late-Soviet United States.