The attorney general is stepping down and leaving a trail of troubling questions behind.
by Peter Roff   •   U.S. News & World Report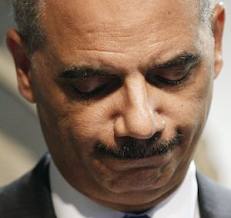 Controversial figure U.S. Attorney General Eric Holder will be stepping down from his post, it was learned recently, leaving the Obama administration as soon as his replacement can be confirmed by the U.S. Senate.
Those who cannot see past race – and thus tend toward wanting to inflate Holder's grade – are praising his tenure in office, lauding the attention he gave issues like civil rights and the manner in which, as NBC's Chuck Todd suggested shortly after the news broke, managed to stay above politics.
In fact, almost every high-profile issue Holder took on had a political taint, especially his intervention in the civil rights arena where he and his department worked to thwart anti-election fraud reforms and to block reasonable photo ID requirements for voters.
Others will no doubt review the list of scandals like "Operation Fast and Furious" – the Justice Department-led gun-running operation gone bad that resulted in the death of at least one U.S. law enforcement official – and the resulting obstructions and disassembling by administration officials that led to Holder's being the only U.S. attorney general in the history of the republic to have been held in criminal contempt of the U.S. House of Representatives.
His principal accomplishment, it seems, is to have acted as a "flak catcher" for the president he serves. This is a noble instinct but a misguided, perhaps even dangerous, attribute for the person who heads up the nation's law enforcement operations to possess. The attorney general's responsibility is to serve the Constitution and rule of law and to see that justice is done – all of which, it can, has and will be argued, Holder failed to do during his tenure.
Holder, said Project 21 Co-Chairman Horace Cooper, a black legal commentator and former constitutional law professor at George Mason University, "managed to set back race relations, showed disrespect for the rule of law and undermined basic constitutional principles. Hopefully, his replacement will understand the difference between being the chief legal adviser for the implementation of a partisan agenda and being the chief law enforcement officer of the United States."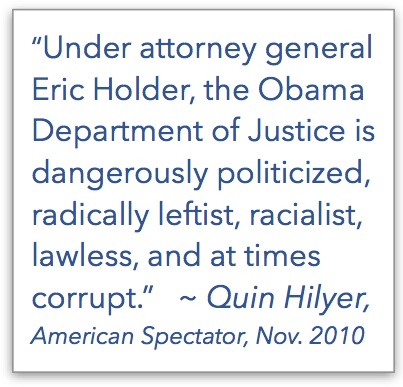 Indeed, rather than focus on Holder's record, which will be debated for years (and has been examined by National Review's John Fund and The Heritage Foundation's Hans von Spakovsky in their book "Obama's Enforcer"), we should remember that the attorney general did what the president who appointed him wanted done. Cabinet members who act as independent agents tend not to be around for very long; Holder is the fourth longest-serving attorney general in U.S. history, suggesting he managed to maintain President Barack Obama's full and complete confidence throughout the years he occupied his office in what Washingtonians refer to as "Main Justice."
Looking forward to the confirmation of his successor, members of the Senate should consider seriously how Holder performed in office and, accordingly, formulate questions to be asked of the man or woman chosen to succeed him:
Has the current president exceeded his constitutional authority, as the U.S. House of Representatives has charged in its lawsuit against him? What responsibility does the attorney general have to communicate to Congress on the Department of Justice's activities? Does the department have the authority to refuse to turn over documents, based on the grounds of executive privilege? Do states have the right to enforce federal laws in controversial areas like immigration? What can be done about the problem of "over criminalization" and the proliferation of regulations issued by the executive branch that have criminal penalties attached without having those penalties ratified by a vote of Congress? Should the federal government intervene after states take it upon themselves to legalize drugs like marijuana?
These are all prudent questions that senators would do well to ask in formulating their opinions on the qualifications of Obama's next nominee for attorney general. They are difficult issues, with many important constitutional questions attached to them. The public has a right to know, before the next nominee is confirmed, what he or she thinks about all them and more. Constitutional liberties are not to be taken lightly; unfortunately the verdict on Eric Holder's attorney generalship may be that he did just that.
.    .    .    .    .    .    .    .    .    .    .    .    .    .    .    .
Peter Roff is a contributing editor at U.S. News & World Report. Formerly a senior political writer for United Press International, he's now affiliated with several public policy organizations including Frontiers of Freedom and Let Freedom Ring. His writing has appeared in National Review, Fox News' opinion section, The Daily Caller, Politico and elsewhere. Follow him on Twitter @PeterRoff.