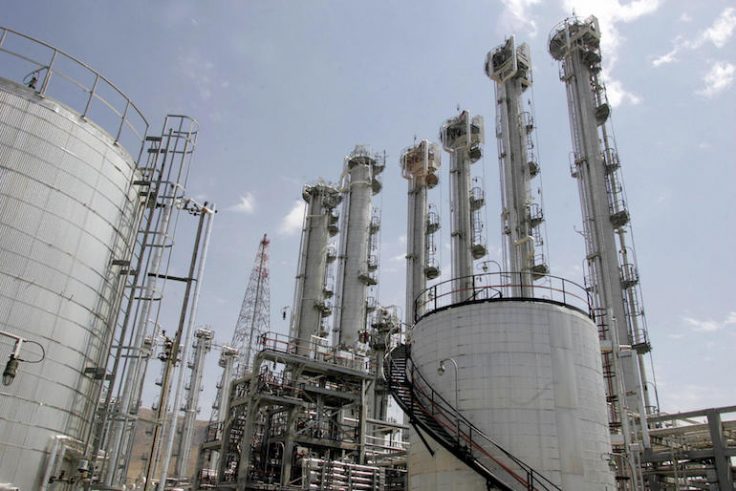 Iran engaged in covert nuclear work that breached international accords as recently as 2019, according to nuclear inspectors who have been blocked from accessing these contested military sites.
The International Atomic Energy Agency's (IAEA) board of governors officially reprimanded Iran on Friday for denying inspectors access to at least two sites now known to have been part of Tehran's secretive atomic weapons program.
The two locations have remained off limits to the IAEA despite evidence they were used for illicit nuclear operations in the last year. At least one of these sites contained a secret high-explosives testing site that could have been used to advance Tehran's nuclear know-how.
The resolution was forwarded by France, Germany, and the United Kingdom, all of which are still party to the nuclear accord with Tehran. While these nations have sought to preserve the accord, their willingness to publicly reprimand Iran is a new sign of mounting frustration with the country's behavior. In addition to blocking IAEA access, Iran has ramped up its development of advanced missiles and enrichment of uranium, the key component in a nuclear weapon, to levels needed for a bomb.
The resolution highlights what these nations described as a "continued lack of clarification regarding Agency questions related to possible undeclared nuclear material and nuclear related activities in Iran."
The move was met with anger by Iranian officials, who said they will continue to block access until the international community offers greater concessions, particularly relief from biting economic sanctions that have crippled the country's economy.
Secretary of State Mike Pompeo said Iran's behavior is proof that it continues to lie to the world about its development of nuclear arms and has no intention of curtailing its nuclear program.
"Iran's denial of access to IAEA inspectors and refusal to cooperate with the IAEA's investigation is deeply troubling and raises serious questions about what Iran is trying to hide," Pompeo said in a statement.
Meanwhile, Iranian military leaders announced on Thursday the successful test-firing of both short- and long-range cruise missiles, which could be used in a conflict with the United States and allied partners operating in the region. The firing of these missiles runs counter to United Nations restrictions on Iran's missile program.
The tests were conducted in the Indian Ocean and Sea of Oman, according to reports from Iran's state-controlled media. Tehran claims the military operation was "more sophisticated" and "more difficult" than previous drills.
The launch marks a significant escalation in Tehran's ongoing standoff with U.S. military vessels operating in the region. Iranian military boats have routinely harassed American ships and sought to choke off access to key shipping lanes in international waters. The display of new cruise missiles is a warning to the United States that the Iranian regime is ready for a military confrontation.
A United Nations embargo on Iran's purchase of advanced weaponry is set to lift later this year. If the United States fails to extend the ban, nations will be able to legally sell Iran missiles and other offensive weapons. The Trump administration is currently pressing its allies at the U.N. to extend this embargo, though these efforts are likely to be blocked by Russia and China, Tehran's top patrons.
If the arms embargo lapses, the United States is likely to push for a so-called snapback, the reimposition of all international sanctions that were lifted as part of the nuclear deal.
An Iran analyst said Tehran's latest moves are a ploy to stave off international scrutiny.
"All eyes should be on Iran now to see how it will make good on its threats which were intended to scare and prevent the vote on this critical [IAEA] resolution," said Behnam Ben Taleblu, a senior fellow at the Foundation for Defense of Democracies, a hawkish think-tank with close ties to the Trump administration. "Tehran often uses such flashpoints to incrementally ratchet up the pressure through expansion of its nuclear program."
Ben Taleblu said that nations such as France, Germany, and the U.K. will have to get tougher on Iran if they want to change its behavior. Although they backed the IAEA's latest censure, these nations also have worked to block the reimposition of major sanctions on Tehran.