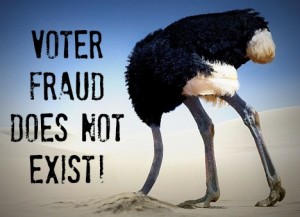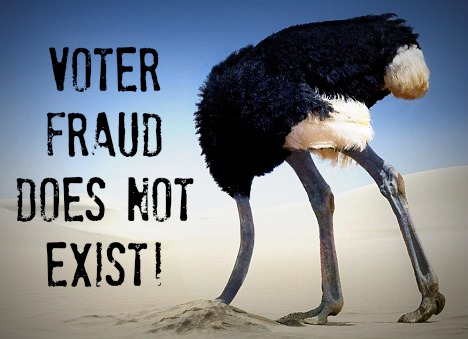 As early voting begins in the Land of Lincoln, President Obama casts his ballot and a Republican state senator voting for himself finds that his ballot was counted for his opponent. Eric Holder, call your office.
The day after resigning as attorney General, Eric Holder told the Congressional Black Caucus that the voter ID laws he and his Justice Department opposed were answers to a problem that "doesn't exist." Yet when President Obama left the golf course Monday to vote early in his home state of Illinois, he was asked to present his ID before casting his ballot.
Upon casting his early ballot, Alex Wagner, the MSNBC anchor and wife of White House chef Sam Kass, opined that Obama was doing "something that almost a half million Texas residents may no longer be able to do this election cycle."
She was upset the U.S. Supreme Court "at five in the morning on Saturday . . . decided to allow Texas to enforce its strict voter ID law in the November elections."
What she failed to point out is that the president himself, like all early Illinois voters, is required by law to present a valid government-issued photo ID to cast his early vote. As we've noted repeatedly, there's no evidence voter ID laws suppress minority voting.
Judging from the polls, any voting suppressed this November will be due to the president's failed policies, which he has insisted are on the ballot in every state.
Also voting early in Illinois on Monday was Republican state representative candidate Jim Moynihan. "While early voting at the Schaumburg Public Library today," Moynihan said, according to the website Illinois Review, "I tried to cast a vote for myself and instead it cast a vote for my opponent." Moynihan also noted his surprise that "the same thing happened with a number of races when I tried to vote for a Republican and the machine registered a vote for a Democrat."
Somehow we're not surprised this could happen in a state where the art of "machine" politics was perfected if not invented. Moynihan was able to recast his ballot, and the errant device was reportedly taken out of service.
But we wonder how many voters might not notice such a "mistake" in a state with an extremely tight governor's race between businessman Bruce Rauner and incumbent Democrat Pat Quinn.
The latter is the successor to the disgraced and now incarcerated Rod Blagojevich, accused of trying to sell the appointment to Barack Obama's vacant Senate seat after Obama became president.
"Clearly, I am concerned that citizens will be unable to vote for the candidate of their choice, especially if they are in a hurry and do not double-check their ballot," Moynihan said.
"This was a calibration error of the touch-screen of the machine," Jim Scalzitti, deputy communications director for the Cook County Board of Elections, told the website Illinois Watchdog. We would like to believe that, but it might not have been.
Clearly there has been much resistance among Democrats to voting integrity measures such as voter ID. We're reminded of the case of Melowese Richardson, the Hamilton County, Ohio, poll worker who was convicted of casting multiple votes for President Obama.
When the Virginia Voter Alliance cross-checked voter rolls in Virginia and Maryland, it announced that it had turned up 44,000 people registered to vote in both states at the same time. The group also identified 31,000 dead voters via the Social Security Administration's Death Master File.
Just this week, an Arizona ballot monitor caught a man wearing a Citizens for a Better Arizona T-shirt stuffing hundreds of early ballots in a ballot box, while guerrilla filmmaker James O'Keefe revealed undercover footage of liberal activists in Colorado urging him to fill out unused ballots, a violation of the law.
Also in Colorado, campaign workers have been going door to door, asking voters for mail-in ballots, a practice some fear could be abused. Meanwhile, in New York City, it's official: There are 850 registered voters who are officially listed as 164 years old or older.
As these shenanigans show, things are getting serious everywhere. Now Chicago demonstrates that vote fraud is not only real, it may now even be automated.