by Kurt Schlichter     •     Townhall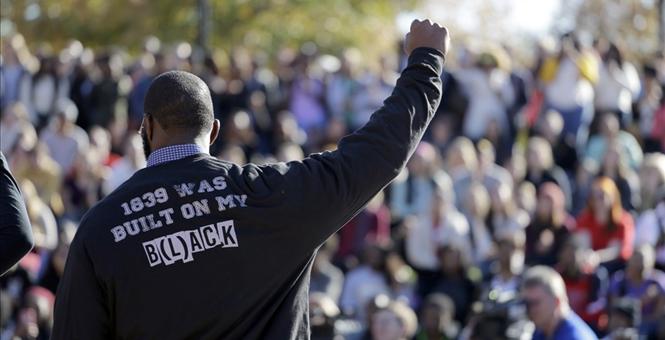 Please don't tell the students at University of Missouri and Yale and all the other throbbing pustules of academia to stop their insanity. Instead, encourage and provoke them to turn the turmoil up to 11, a number most of these students can't count to without taking off their Nikes. No, we want the campuses to echo with the whiny cries of the Children of the Safe Space Revolution.
And we will sit back and point and laugh as the weak-willed, spineless liberal losers of academia abase themselves before their whimpering student bodies. This is just great. As Napoleon observed, never interrupt your enemy while he's making a mistake. Now, mentioning Napoleon probably a microaggression because, in the unlikely event that the gender studies and Marxist interpretive dance majors of Yale and Missouri recognize the name, he's a cis-het dead white male – and he was not actually differently abled despite being vertically challenged. Still, his advice has merit – just pretend for a moment that he is trans woman-identifying being of color of some sort.
Our enemies are tearing themselves apart. Let's let them, because every time a social justice warrior humiliates other liberals, a conservative gets his wings. See, this has all happened before. For those unfamiliar with that thing called history – I'm talking to you, college students – there was this guy named S.I. Hiyakawa who was head of San Francisco State University back in the 1960s. When a bunch of hippie punks decided to make demands, he stood up to them. He became a hero to normal people, and the voters of California – back before they went insane – elected him senator. In other words, all this idiocy about safe spaces and healing circles and "I am an oppressed special snowflake of love" provides us not only nearly endless amusement, but an opportunity to swoop in after the left has pummeled itself into mush.
This is an opportunity to get back on the side of the American people and do their will by striking back at these leftist twits. Along with the rising crime rate – even as President Faily McWorsethancarter has decided it's time to free thousands of felons because justice or something – student idiocy provides enterprising conservatives a chance to appeal to the Silent Majority just like Richard Nixon did. For you college students out there, you'll need to Google his Wikipedia page, but suffice it to say, he won.
So let's make sure Hillary Clinton and the rest of the Democrats have to own this pouty passion play. You know there's no way Hillary can stand up and say what I would: "Hey you little cretins, you've got 'til I count to three to get off my quad or I unleash these state troopers to get all pepper spray and nightstick up on your delicate little booties. Three."
No, she has to kiss their collective healing circles. And we should make her do it publicly, because there's nothing normal voters love more than seeing people giving in to petulant sophomores with an attitude. We should force her to take a stand, to decide whether she's on the side of the little college punks, or on the side of Americans. Gee, where do you think she'll come down? Not with the normals, that's for sure.
But even as we get a short term political benefit we also have a long term cultural opportunity. An Overton Window is opening to defenestrate academia as it is currently constituted. Right now, as people like Glenn Reynolds and yours truly have written, colleges are pricing themselves out of the market and are increasingly vulnerable to new technology that can deliver an education without all the nonsense. Conservatives can now make an even stronger case that we need to stop subsidizing these government-funded petri dishes of social pathologies and pinko bioweapons. The clown shows at Yale and UofM are a perfect, graphic demonstration of why we should slash their budgets, pare their loathsome, Dem-voting administrations to the bone, and force academia to change – and it goes without saying that the change will be into something other than the lefty conformity factories they are today.
It's beautiful how this conflict divides the liberals between the establishment and the students, and how it further subdivides two of their main establishment constituencies, academics and mainstream media journalists. For too long, both of these groups of hapless losers have been able to pretend to support free speech. Well, suckers, now it's getting real. The little monsters you spawned don't much like free-speech, and they want you to shut up too, not just us conservatives. Being academics and journalists, and therefore presumptively without spines, most of you guys will submit. A few of you won't, and it will weaken your coalition when some number of your members walk away because they just can't swallow your catering to these Junior Red Guards.
Conservatives should be loving this fight. We're sitting on the sidelines and watching our enemies beat each other to a fussy pulp. This is a classic wedge issue because it splits our enemy apart like Abe Lincoln split rails. Yeah, there's another dead white cis-het male reference you Mizzou morons won't get.
Oh, and what if you little goofs dare strut off campus thinking that we're like the professorial puffballs who'll fold in the face of any intersectional anarcho-feminist who starts bawling about feeling unsafe because someone expressed an idea he/she/it doesn't like? Well, stampy foot may work with your local Assistant Dean for Diversity and Petty Fascism, but it doesn't play with us. The Iraqis didn't stop me from exercising my First Amendment rights, nor the Balkans baddies, nor the scumbag rioters in Los Angeles, so you sure as hell aren't going to without a fight. If you think you get a vote about what we normal Americans can and can't say, you best be ready to try and make that happen with more firepower than a vicious Tumblr, because when it comes to the Bill of Rights we're playing for keeps.
So, fellow freedom lovers, grab a bag of popcorn and a tumbler of scotch, because this is only going to get better and better. And you matriculating Marxist morons, pay no mind to us conservatives or to our laughter. Just keep very publicly making your strategic mistakes in your widdle campus safe spaces, and we will keep letting you – for now.