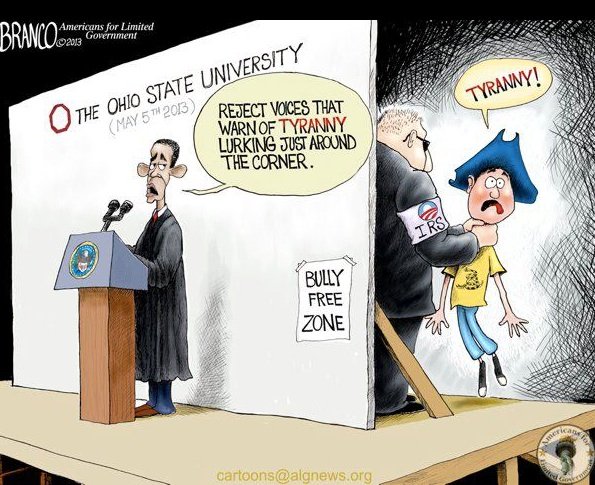 IRS-Gate:  From stonewalling Congress to Federal Election Commission collusion to harassment of already-tax-exempt conservative groups, the IRS scandal metastasizes. Someone high-up was clearly giving orders.
'Phony scandals," to use President Obama's term, should not generate near-daily news coverage from a media that would like nothing better than to see its dream president let off the hook. Yet everywhere you look comes another bolt of lightning keeping this Frankenstein monster "alive!":
• In addition to conservative organizations being ultra-scrutinized in applying for tax-exempt status, existing conservative groups like Morton Blackwell's Leadership Institute, around since 1979, and the Claire Booth Luce Policy Institute, founded in 1993, were slammed with costly audits by Obama's IRS in the months before the 2012 election.
• With the IRS providing just a fraction of the documents requested, House Oversight Committee Chairman Rep. Darrell Issa, R-Calif., on Tuesday accused acting IRS commissioner Danny Werfel of systematically attempting "to delay, frustrate, impede and obstruct" the panel's probe.
• National Review reports that on-leave IRS tax-exempt division head Lois Lerner was in e-mail contact with at least one attorney at the Federal Election Commission — where she used to work — to whom she apparently gave tax status information of a conservative group, the American Future Fund, before the FEC lawyer recommended "that the commission prosecute it for violations of campaign-finance law." The FEC also asked about the conservative American Issues Project.
• A House Ways and Means Committee analysis found conservative groups were asked three times as many questions by the IRS and had longer delays than left-wing groups seeking tax-exempt status.
• A June 26 letter made public last Thursday from the IRS inspector general to House Ways and Means Ranking Democrat Sander Levin of Michigan "makes it clear the inspector general believes Tea Party groups did have it worse than progressives," the left-leaning National Public Radio conceded.
• While President Obama claimed when the IRS scandal came to light in May that "It's inexcusable … and I'm angry about it," Politico reports this week that tax-exempt organizations commissioner Sarah Hall Ingram received "bonuses of $26,550 to $35,400 in fiscal years 2010, 2011, and 2012 … 15 to 20% of her annual salary," while Lerner from 2006 to 2012 "was paid a combined total of $110,035 in bonuses." And senior IRS official Faris Fink, better known as Mr. Spock in the IRS' taxpayer-funded "Star Trek" parody, got "$149,506 in bonuses between 2007 and 2012." Clearly, someone above them was pleased.
• Appearing on Fox News Sunday, Treasury Secretary and ex-White House chief of staff Jack Lew didn't sound like someone sure that the IRS probes would find nothing: "I'm not saying it's done. We will cooperate with all of the ongoing investigations."
• At his "phony scandals" press briefing a week ago Tuesday, White House crisis manager Jay Carney was so intent on distracting reporters from IRS-gate and the other Obama scandals, he uttered the term "middle class" no fewer than 17 times — astonishing, considering that median household income is down 5%, almost $3,000, from the year Obama took office.
Lew, Carney and Obama himself act like people worried about a threat lying a little farther under investigators' shovels. And they should be considering the suspicious timeline of Obama-appointed IRS chief counsel William Wilkins visiting the president on April 23 last year; IRS Commissioner Douglas Shulman visiting the White House the next day; and Wilkins' office sending the IRS "guidance" on the Tea Party the day after that.
The IRS is one of the most powerful, frightening arms of the U.S. government. ObamaCare, about to be implemented, will mean "an unprecedented and unauthorized expansion of IRS power," bypassing Congress' constitutionally defined taxing powers, warns a soon-to-be-released book, "Impeachable Offenses."
If we find our tax-collection agency helped re-elect a president under political orders, Watergate could look trivial by comparison.
.      .      .      .      .      .      .      .      .      .      .      .      .      .      .      .
This op-ed article appeared in the Investors Business Daily.