by George Landrith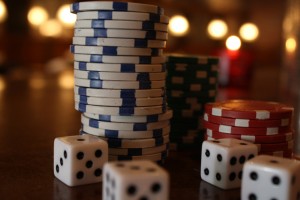 I don't know if the ancient language of Arizona's Tohono O'odham Native American tribe includes a word for "hubris" — defined as excessive pride or self-confidence, with synonyms like "arrogance" and "deceit."
Regardless of whether they have an equivalent word for hubris, the Tohono O'odham Nation (TON) leaders have proven themselves masters of the concept.  And the casino they plan to open December 20th in the Phoenix suburb of Glendale is a monument to hubris, not to mention greed and a shameless distortion of the principle of tribal sovereignty. Now, it appears, federal legislation is the only solution.
All 17 Arizona gaming tribes – including TON – joined in a compact with the state, supported by a public referendum that gave the tribes exclusive rights to operate gambling casinos in Arizona. In return the tribes agreed to specific limits on the number of casinos in Arizona. This was intended to prevent over-saturation thereby providing financial support to the tribes and host communities through gaming revenues, a structure that has proven profitable since enacted in 2002.
The TON casino in Glendale violates the agreed upon limit of seven casinos in the Phoenix area at least until the compact expires in 2027. TON already runs three lucrative casinos on their reservation lands near Tucson. Its Glendale invasion is empire-building pure and simple, not to be confused with a poor tribe trying to pull itself out of poverty.
Rather than creating new jobs, another casino in this market will simply redistribute existing numbers. The location is also questionable. The all-but-completed casino sits on an island of secretly-purchased land adjacent to a local high school and surrounding neighborhoods.
Mayors of surrounding cities, state legislators, and government leadership in Arizona oppose the casino. Many of the other 16 Arizona gaming tribes such as Salt River Indian Community, Gila River Indian Community, Hualapai Tribe, Navajo Nation, and the Cocopah Tribe have expressed opposition to TON's actions with the casino.
TON has chosen to thumb its nose at the state, voters, and fellow tribes by claiming the federal policy of tribal sovereignty, leaving it free to break its promises from the 2002 compact. TON lawyers claim the tribe can build a casino in Phoenix or anywhere else it owns land.
State officials have accused TON of outright fraud in secretly negotiating to buy the land in Glendale even as it was signing onto the gaming compact. That charge was recognized as potentially valid last month by a federal judge.
The complexity of court fights, regulatory hearings, Congressional legislation, and public protests over the controversial casino plan is harder to follow than the second season of True Detective. Through it all, TON has continued building its casino – a classic show of hubris.
The best chance of making TON honor its promises under the compact is a federal bill fittingly titled Keep The Promise Act of 2015 (H.R. 308) sponsored by Rep. Trent Franks (R-AZ).  This bill was defeated by only several votes in November, and should be brought back to the floor.  Federal action is needed because it is Congress who originally authorized tribes to engage casino gaming even in states that did not permit gaming provided it was on traditional Indian lands.  So this bill would give Congressional authority to the portion of the gaming compact that prohibits further casino development in the Phoenix area until the compact expires.
TON Chairman Edward Manuel has protested the legislation and threatens a lawsuit against the federal government if the bill is passed.  The Congressional Budget Office (CBO) says that the legislation itself will not cost the taxpayers a dime, if enacted. However, CBO estimated that TON's lawsuit, if successful, could cost up cost up to $1 billion in damages. However, it would be an incredible long-shot for TON to win such a lawsuit given its duplicitous dealing in this case and its violation of the compact it agreed to.
It's a sad situation when federal intervention is required to protect states' rights and enforce an agreement voluntarily made between a tribe and state government. But the Glendale casino represents just such a situation. Arizona needs the Keep The Promise Act and Congress should pass it because it is Congress's original legislative authorization of indian gaming that is being abused.