By Editorial Board      •     Washington Post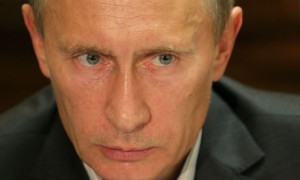 In July, President Obama said he had been "encouraged" by a telephone call Russian President Vladi­mir Putin had initiated to discuss Syria. The Russians, Mr. Obama confidently declared, "get a sense that the Assad regime is losing a grip over greater and greater swaths of territory" and "that offers us an opportunity to have a serious conversation with them." Not for the first time, Mr. Obama was supposing that Mr. Putin could be enlisted in a diplomatic settlement to the Syrian civil war along lines Washington and its Arab allies support. Not for the first time, the president appears to have badly misread the Russian ruler.
Far from abandoning its support for the Assad regime, Moscow appears to be doubling down. According to numerous reports, Russia is establishing a base at an airfield near an Assad stronghold on the Mediterranean coast and has filed military overflight requests with neighboring countries. Analysts believe Russia may be preparing to deploy 1,000 or more military personnel to Syria and to carry out air operations in support of Assad forces. Syrian rebels already have reported seeing Russian aircraft over territory they control.
The intelligence is serious enough to have prompted Secretary of State John F. Kerry to call Russian Foreign Minister Sergei Lavrov on Saturday and to release a statement saying that he had warned that Russian actions "could further escalate the conflict . . . and risk confrontation" with the U.S.-led coalition fighting the Islamic State.
In reality, Mr. Putin's strategy in Syria has been consistent. All along he has aimed to block any U.S.-backed move to remove Bashar al-Assad from power and aimed to force the West to embrace the regime as a partner in fighting the Islamic State. On Friday, Mr. Putin said his plan for a political transition in Syria, including parliamentary elections and a coalition government with "healthy" opposition factions, had Mr. Assad's full support, which tells you all you need to know about it.
By preparing to deploy Russian ground and air forces to Syria, Mr. Putin is acknowledging a truth that Mr. Obama has refused to accept: Any political agenda for Syria's future is meaningless unless it is backed by power on the ground. Mr. Assad will depart, as Mr. Obama has been predicting and urging him to do for four years, only if the balance of military force makes an opposition victory inevitable and imminent. If the United States had provided even the modest support to Syrian rebels that Mr. Obama promised but did not deliver — much less the more muscular effort proposed by many of his advisers — Moscow probably would not risk its own troops and aircraft.
As it is, Mr. Putin likely believes that U.S. weakness gives him an opportunity to tilt the military balance back toward the Assad regime. As Mr. Kerry's statement put it, the result would be "greater loss of innocent lives" and increased refu­gee flows. But Moscow, like Damascus, will not be swayed by U.S. rhetoric. If Mr. Obama wishes to see the U.S. vision for Syria prevail over Russia's, it will take more than phone calls.