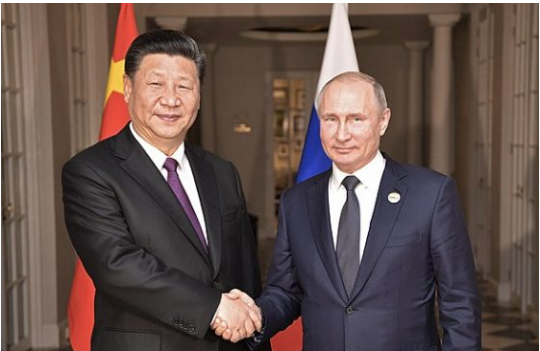 ANALYSIS – I have argued that one of the most significant collateral benefits of Vladimir Putin's brutal invasion of Ukraine has been to unify and strengthen NATO, not only against Russia but also against Putin's greatest ally, Communist China, led by Xi Jinping.
While individual NATO countries were taking an increasingly complex line against China since President Donald Trump put confronting China front and center in U.S. strategy, Putin's war (and China's open support for Russia) pushed NATO to officially place China in its latest' Strategic Concept' planning paper.
This is a significant development. The U.S. can't face China alone.
It also highlights the direct link more Europeans see between Russia's assault on Ukraine and a similar Chinese invasion of Taiwan.
In its China Watcher newsletter, Politico, explains what this means and asks whether NATO can face off both threats simultaneously. It writes:
Congratulations to President XI JINPING. It's official. China made it into NATO's first revamped Strategic Concept in over a decade, formally adopted at last week's Madrid summit.

NATO pointed to the "systemic challenges" that the People's Republic of China poses while also holding out an olive branch for "constructive engagement." Yet the language was tough, referring to Beijing's "coercive policies" that challenge NATO's "interests, security and values" as well as the PRC's "malicious hybrid and cyber operations."

In the bigger strategic picture, however, it is NATO's depiction of Beijing and Moscow's ever closer partnership that raises the largest concerns. NATO is not yet referring to a China-Russia "bloc" in its Strategic Concept, but it is clearly alerting the world's democracies to the scale of the challenge they now face.

Enter the word "capacity." Do the U.S. and its allies — especially in Europe — really have the resources and the willpower to hold the line if they are taking on Russia and China at once? The West is now locked in a confrontation over Ukraine that, absent regime change in Moscow, is likely to continue for year after dreary year without a clean and decisive conclusion.
Robin Shepard adds:
NATO firmly rejects the suggestion that China and Russia together are too much to handle. SpokespersonOana Lungescutold China Watcher: "Both authoritarian regimes are pushing back against the international rules-based order, so we are strengthening NATO in an era of strategic competition and deepening our partnerships with like-minded nations around the world, including our Indo-Pacific partners.… NATO does not have the luxury of choosing our challenges, we must face them all."
The inclusion of China on NATO's Strategic Concept has rattled the Communists in Beijing, especially as it follows the first NATO summit in June that included Japan, South Korea, Australia, and New Zealand.
China's mouthpiece, the Global Times, railed at this Aisa-focused summit, saying: "Catering to NATO's Asia-Pacificization is tantamount to inviting wolves into the house.… The sewage of the Cold War cannot be allowed to flow into the Pacific Ocean."
This is all welcome news for the West, but it will take a lot more than just talk and papers.
NATO will have to do much more to rebuild its military capabilities if it genuinely intends to back the U.S. and its Asian allies in facing the Chinese Red Dragon.