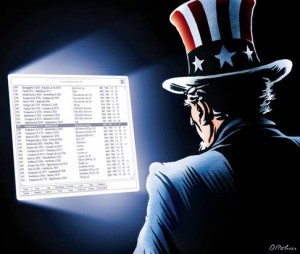 by Harriet Alexander
Staff working at America's National Security Agency – the eavesdropping unit that was revealed to have spied on millions of people – have used the technology to spy on their lovers.
The employees even had a code name for the practice – "Love-int" – meaning the gathering of intelligence on their partners.
Dianne Feinstein, a senator who chairs the Senate intelligence committee, said the NSA told her committee about a set of "isolated cases" that have occurred about once a year for the last 10 years. The spying was not within the US, and was carried out when one of the lovers was abroad.
One employee was disciplined for using the NSA's resources to track a former spouse, the Associated Press said.
Last week it was disclosed that the NSA had broken privacy rules on nearly 3,000 occasions over a one-year period.
John DeLong, NSA chief compliance officer, said that those errors were mainly unintentional, but that there have been "a couple" of wilful violations in the past decade.
"When we make mistakes, we detect, we correct and we report," said Mr DeLong.
The NSA issued a statement on Friday saying: "NSA has zero tolerance for wilful violations of the agency's authorities" and responds "as appropriate."
Mrs Feinstein said: "Clearly, any case of noncompliance is unacceptable, but these small numbers of cases do not change my view that NSA takes significant care to prevent any abuses and that there is a substantial oversight system in place.
"When errors are identified, they are reported and corrected."
The extent of American spying on its citizens and foreigners through the NSA and its "Prism" programme were revealed by Edward Snowden, a whistleblower, who fled to Russia where he has claimed temporary asylum.
.     .     .     .     .     .     .     .     .     .     .     .     .     .     .     .     .     .     .     .
Harriet Alexander is a Foreign Correspondent for the Daily and Sunday Telegraph (London).