Obama admin promises new laws will not violate nuke deal
by Adam Kredo      •     Washington Free Beacon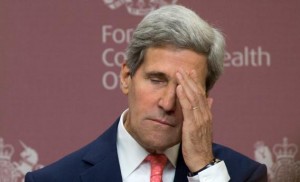 Secretary of State John Kerry is working to reassure Iranian leaders that recent congressional efforts to tighten counter-terrorism measures will not harm Iranian interests, according to a letter sent by Kerry to Iran's foreign minister.
The assurances come following efforts by Congress to tighten restrictions in the visa waiver program, which they claim has gaping loopholes that may enable suspected terrorists to legally enter the United States with few background checks.
Iranian leaders expressed anger over the move in recent days, prompting senior Obama administration officials to convey their own concerns to lawmakers.
Kerry wrote to Iranian Foreign Minister Javad Zarif late last week, promising that the Obama administration could veto these new counter-terrorism laws in order ensure Iran is not negatively impacted.
"I want to confirm to you that we remain fully committed to the sanctions lifting provided for under the [nuclear deal]," Kerry wrote Zarif in a Dec. 19 letter that came a day after the two met in person. "We will adhere to the full measure of our commitments, per the agreement. Our team is working hard to be prepared and as soon as we reach implementation day we will lift appropriate sanctions.
A copy of the letter was obtained and published by the National Iranian American Council, a pro-Iran advocacy group long suspected by critics of working on behalf of the Iranian regime.
Kerry vows to ignore new counter-terrorism measures if they impact the administration's ability to uphold the deal. Iran in recent months has already been accused in recent months of violating the accord by testing multiple ballistic missiles that could carry a nuclear payload.
"I am also confident that the recent changes in visa requirements passed in Congress, which the administration has the authority to waive, will not in any way prevent us from meeting our [Joint Comprehensive Plan of Action] commitments, and that we will implement them so as not to interfere with legitimate business interests of Iran," Kerry wrote, outlining the "tools" the administration has to ignore new visa waiver restrictions.
"We have a number of potential tools available to us, including multiple entry ten-year business visas, programs for expediting business visas, and the waiver authority provided under the new legislation," Kerry wrote. "I am happy to discuss this further and provide any additional clarification."
Stephen Mull, the State Department official in charge of implementing the Iran deal, warned the Senate Foreign Relations Committee late last week that recent congressional efforts to tighten restrictions "could have a very negative impact on the deal."
Iranian leaders also have expressed anger over the situation.
Ali Larijani, the speaker of Iran's parliament, said last week that newly tightened measures "are aimed at harassment" and that they "blatantly violate the nuclear agreement," according to comments carried by the Iranian state-controlled press.
Larijani warned that this action will detonate the deal before it has even been implemented.
"If the Americans pursue the plan, they will destroy an achievement with their own hands since it is against the [nuclear deal], and it will trouble them," he warned.
Critics have accused the Obama administration of bending over backward to appease Iran.
"According to the Obama administration's latest interpretation, the nuclear deal allows Iran to test ballistic missiles in violation of international law, but does not allow Congress to prevent terrorists from coming into the United States," Omri Ceren, the managing director of press and strategy at The Israel Project, a D.C.-based organization that works with journalists on Middle East issues, recently told the Washington Free Beacon.