by U.S. Representative Tom Cole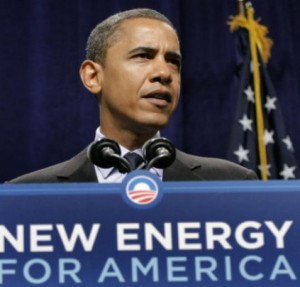 If only President Obama would take his approach to energy production and apply it to the national debt, we'd be down to 2007 levels in no time. According to a new report from the nonpartisan Congressional Research Service (CRS), his administration's policies have caused production on federal lands to plummet.
Although the president likes to claim that production of oil and natural gas has increased during his tenure, the growth driving the current energy boom has occurred entirely on non-federal lands.  On federal lands subject to government control, it's a different story. Between 2010 and 2012, oil production on federal lands fell by more than 23 percent to levels lower than those in 2007.  For natural gas, the decline was 33 percent since 2007, while private lands experienced a 40 percent increase over the same period.  Next time President Obama touts his energy record, it's worth keeping in mind that the federal share of oil production has dropped from 31 to 26 percent on his watch while the federal share of natural gas production has been cut almost in half – from 28 percent to 16 percent. Meanwhile, gas prices in February increased for more than 30 days straight, reaching almost record highs for the usually stable winter season.
In addition to outright bans on drilling in promising locations like the Outer Continental Shelf, the Obama administration has limited or delayed drilling everywhere else.  The CRS report reveals the average time to process a federal drilling permit application is now 307 days – a 41 percent jump.
And then there's the Keystone XL pipeline.  In March, yet another environmental study concluded that the pipeline from Canada to the Gulf Coast would be environmentally safe.  In what a former U.S. ambassador to Canada dubbed "the longest permitting process in the history of the world," this most recent State Department study is the fourth in four years to affirm that the pipeline is safe.  It is also popular.  Every governor of the six states – including Oklahoma – through which it would pass are onboard, and 70 percent of the American people support the project.  According to the House Energy and Commerce Committee, construction and operation of Keystone would create over 20,000 direct jobs and 100,000 indirect jobs and carry nearly a million additional barrels of oil per day to U.S. refineries.  President Obama's opposition is the only thing standing in the way of these jobs, energy and revenue, yet he still refuses to approve the project.
The House Republican budget plan recognizes the enormously positive impact Keystone will have on the economy and job creation, and immediate approval of the pipeline is a centerpiece of our budget.  Rather than taking credit for increased energy production he did not create, President Obama earn a genuine achievement for energy independence and job creation by approving the Keystone pipeline right away.
.   .   .   .   .   .   .   .   .   .   .   .
Tom Cole is a Member of the United States House of Representatives. His article originally appeared here.