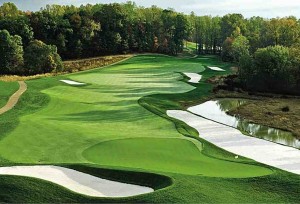 Grocery stores on Army bases in the U.S. are closed. The golf course at Andrews Air Force base is open.
All 128 employees of the Saint Lawrence Seaway Development Corp. are working, while 3,000 safety inspectors employed by the Federal Aviation Administration are off the job.
The Food and Drug Administration is reviewing new pharmaceuticals. The National Institutes of Health is turning away new patients for clinical trials.
The seeming randomness of the U.S. government's first shutdown in 17 years can be explained in part by anomalies in the spending Congress does and doesn't control. Activities funded by fees from drug, financial-services and other companies are insulated from year-to-year budget dysfunction. The ones that get a budget from Congress get hit.
"What's really happening in America is that the appropriations process has completely failed," said Elaine Kamarck, a senior fellow in governance at the Brookings Institution in Washington who worked in the White House during the last shutdown in 1995-96.
This isn't government according to U.S. civics textbooks. Government is supposed to collect taxes, the president is supposed to propose each year how to spend the money, and Congress has the final say with the constitutional power of the purse.
Instead, Congress has had to resort to a so-called continuing resolution — a catchall bill to keep the government operating on life support while negotiations continue — in each of the past 16 years.
There have been 93 continuing resolutions passed since 1998, covering operations for as little as 21 days in 1999 to the full years of 2007 and 2011, according to the Congressional Research Service.
Since the standoff between President Bill Clinton and Congress that last shut down most of the government, funding of more functions has shifted to means outside the appropriations process, Kamarck said.
Passport applications are paid for by fees. The FDA is funded through assessments on companies like Bristol-Myers Squibb Co. (BMY) and Pfizer Inc. (PFE) The U.S. Patent and Trademark Office, which has said it can operate for at least four weeks, has been funded by user fees since 1993. The Federal Highway Administration is funded by taxes on gasoline and diesel fuel, not income taxes, so its 2,914 employees are on the job.
Other agencies can keep operating with multiyear funding or reserves. Visitor centers and public facilities at U.S. Fish and Wildlife Service refuges are closed, while construction and land acquisition continues because those activities have long-term funding. The Saint Lawrence Seaway agency is using a revolving account containing $12.8 million to stay fully operational.
Closures can seem arbitrary as agencies define what's necessary for life, health, safety and safeguarding of property.
While many functions at Army bases continue, commissaries in the U.S. are closed, forcing troops and their families to shop at local stores that cost about 30 percent more, Lieutenant General Raymond Mason, the service's deputy chief of staff for logistics, said yesterday at a House hearing.
"For the soldiers and their families, that's very difficult," Mason said.
The Andrews Air Force Base golf course is funded through user fees and that's why it remains open, said Air Force Captain Lindy Singleton, chief of public affairs for the 11th Wing at Andrews.
In Rock Creek Park, the urban forest in Washington where Theodore Roosevelt used to ride his horse, cars made their morning commute along a well-traveled parkway while hikers were prohibited to walk.
Numbers of furloughed employees vary dramatically from agency to agency. The Agriculture Department is furloughing 84 percent of its staff, while the Veterans Affairs Department is keeping 96 percent of its workers on the job.
In the Bureau of Indian Affairs, 38 percent of the 4,113 employees are still on the job, including those that provide water, fight fires or are building roads or bridges. Suspended activities include payments of financial assistance to needy individuals, and to vendors providing foster care.
The shutdown of FAA aircraft-certification activities prevented JetBlue Airways Corp. (JBLU) from taking delivery yesterday of its first Airbus A321 jetliner, the airline said. The plane is stranded at a factory in Germany.
The U.S. Census Bureau has kept nine employees in Indiana on the job for three days to print furlough notices and send them out.
"The reason you're seeing such irregular things is because everyone knows it's going to have to end," Kamarck said. "They also know that when it ends the government is going to pay its bills, one way or the other."
.     .     .     .     .     .     .     .     .     .     .     .     .     .     .
Jeff Plungis, Mark Drajem and David Lerman write for Bloomberg.