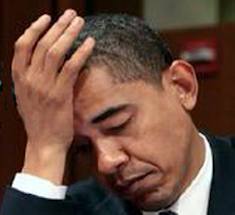 by Marc A. Thiessen  •  Washington Post
Remember George W. Bush's "16 words" in his 2003 State of the Union address making the case for military action in Iraq? Sen. John Kerry charged that Bush "hoodwinked the American people." Sen. Hillary Clinton said Bush "misled" the country. And Sen. Barack Obama accused the White House of "shading intelligence reports to support its case."
Well, now it seems President Obama has his own 16 words to answer for: "If you like your health care plan, you'll be able to keep your health care plan." (Actually, it was a little more than 16 words if you include what the president said next: "Period. No one will take it away. No matter what.")
Obama attempted to move the goal posts in his speech in Boston's Faneuil Hall Wednesday, declaring that if you like your current health plan, "For the vast majority . . . you can keep it." Sorry, he didn't say "the vast majority" back in 2009. He said you can keep your plan. Period. No matter what.
Indeed, Obama repeated this promise on at least 24 separate occasions — before and after the law went into effect. It was critical to his case. Without his 16-word pledge that no one would lose his or her health plans, Obamacare might never have become law.
But Obama's 16 words were untrue. Across the country, Americans are now seeing their health plans discontinued — and experts say the cancellations could eventually reach 16 million. As one woman in California who got a cancellation letter from her insurer told the Los Angeles Times, "All we've been hearing the last three years is if you like your policy you can keep it . . . I'm infuriated because I was lied to."
Indeed, there is good reason to believe that the administration not only knew but fully intended for all these people to lose their existing plans. The Health and Human Services Department specifically wrote regulations to ensure that they would — narrowing a provision in the law "grandfathering" in existing plans so that "40 to 67 percent" of those in the individual market would not be able to keep their policies. That's because moving millions of customers out of the individual and small group markets and into the exchanges is critical to making the scheme financially viable. Indeed, the survival of Obamacare depends on it.
The individual and small group markets are made up largely of healthy people who don't use a lot of services. The administration needs at least 2 million healthy people who don't use a lot of services to join the exchanges in order to subsidize coverage for the poor and the sick. If they don't join, the risk pool gets worse, prices go up, eventually insurers will flee the exchanges — and the whole thing collapses.
While the individual mandate is supposed to coerce uninsured healthy people without insurance to join the exchanges, the problem is that the penalties are too weak — just $95 in the first year. Why would a healthy person who does not think they need insurance pay $55 a month (or $660 a year) for a $6,000-deductible plan when they could just pay a $95 penalty instead?
So the administration needed some way to force currently insured healthy people into the exchanges. How serendipitous, then, that millions of mostly healthy people are suddenly seeing their health plans cancelled. If they cannot afford the skyrocketing prices to keep similar coverage, they have no choice but to join the exchanges. The result? A massive involuntary transfer of Americans out of private health insurance they were happy with into Obamacare plans.
These folks are the marks the administration has targeted to pay for Obamacare. Or they would be, except for one problem the White House did not anticipate: The Obamacare Web site does not work. So now millions of people who will lose their health coverage on Jan. 1 are unable to sign up for alternative coverage through the Obamacare exchanges.
It was Obama's objective from the start to destroy the market in order to fund Obamacare. He wants these people to lose coverage so they have no choice but to sign up for the exchanges. Obama all but admitted this in his Boston speech. "If you're getting one of these [cancellation] letters, just shop around in the new marketplace," he declared. In other words, don't worry if the plan you're happy with is being cancelled, just join Obamacare! That was the plan all along.
All of which suggests that Obama's 16 words were no accident.
Or, put another way, "Obama lied and the individual market died."
.     .     .     .     .     .     .     .     .     .     .     .     .     .     .     .     .     .
Marc Thiessen writes a weekly column for The Washington Post on foreign and domestic policy and contributes to the PostPartisan blog. He is a fellow at the American Enterprise Institute.