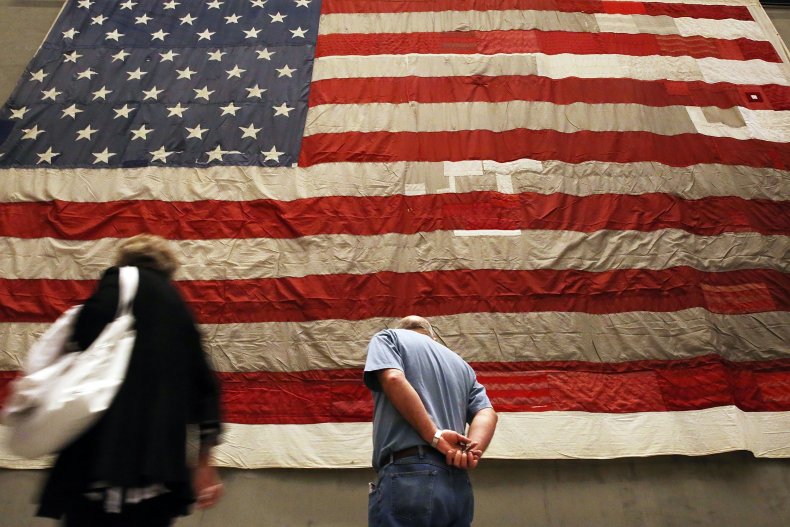 "Never forget."
That's what we all said nearly twenty years ago while struggling to cope with our grief. Since the days of George Washington, we'd thought of ourselves as more or less removed from what he called "messy, foreign entanglements," protected from the rest of the world by two great oceans and divine providence.
We'd jumped into the thicket a time or two. America saved the world at least twice during the 20th century, probably three times given our willingness to contest an expensive, global Cold War which occasionally turned hot in places like Korea, Vietnam, and the Middle East at the cost of our greatest treasure: the young men and women sent to fight.
Was it strange that we never asked to be thanked for it? No, that's just the way we are. We want to live our lives in peace, left alone to make our own choices, secure in our liberties as God gave them to us. We flirted with the building of empires but that really wasn't for us. We wanted to be, and often were, the good example for others to follow.
Then came 9/11. A group of religious fanatics hijacked four U.S.-flagged airliners, turning them into flying missiles aimed straight at the heart of our political and commercial institutions. Two of them hit New York's Twin Towers with such explosive force the buildings crumbled to the ground as if they were made of sand.
A third jetliner reportedly headed for the White House crashed instead into the Pentagon. On the fourth plane, the passengers who'd learned what had happened on the other three revolted against their captors. The ensuing struggle meant their plane, instead of piercing the dome of the U.S. Capitol as planned, broke apart in a field in Pennsylvania.
"Never forget," we said afterward. "Never forget the everyday Americans and the others from all walks of life who perished that day," we said. "The people who represented the multitude of differences between Americans but were, for a brief moment, united by their humanity."
"Never forget," we said about the first responders from the police and fire departments and emergency techs in New York City, Washington, D.C., Northern Virginia, and rural Pennsylvania who came to the aid of those injured, dying, or dead. Especially those who died that day because their jobs had them rushing into the burning buildings rather than out of them.
America, we forgot—and we should be ashamed.
Over the last decade, we've watched as the nation turned in on itself. First responders are being shunned, even assassinated. In California this past weekend, so-called peaceful protestors gathered outside the hospital where two Los Angeles County deputies who'd been ambushed were being treated, shouting their hopes the officers would die.
This didn't start with Donald Trump. This didn't start with Barack Obama. It started outside politics, in the American culture where somehow we've been divided up, piecemeal, into groups airing grievances. Left or right, it makes no difference. We've allowed ourselves to be pitted against one another, and we should be ashamed.
We've forgotten that in America each life matters. We're all created equal, as individuals, not assigned at birth into groups because of skin color, economic status, education, or biological sex. We are an imperfect nation, to be sure, but almost certainly less imperfect than any other.
The fanatics responsible for the murder of more than 3,000 of our brothers and sisters and mothers and fathers on that dark day nineteen years ago didn't attack us in protest of the country's history of systemic racism. Or because women get paid less on average than men. Or because some people think you should have to show a government-issued photo ID that proves you are who you say you are before you can exercise your right to vote. Pick any complaint you want; it isn't why America was attacked.
We were attacked because, out of all the nations of the world, America stands for the idea that all men and women are by their birthright free and should be treated equally under the law. We were attacked because of our ideas about religious liberty—that different faiths can coexist respectfully and peacefully—and because we believe women have just as much right as men to pursue an education. And for many other reasons, all of which have to do with what is best about us, because of the ideas that make our civilization strong. We are one nation and, fundamentally, we all matter. In the heat of the moment, we've forgotten that. Yet rather than dwell much longer on our errors, let's come together in our strengths to make this nation all it can be, for now and for generations to come.