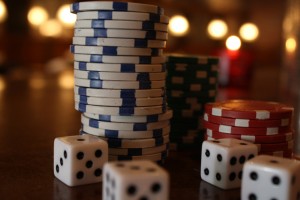 The Wisconsin governor has issued a set of principles that should be viewed as a model for the nation
by Peter Roff
Originally designed as a way to compensate Indian tribes for their mistreatment at the hands of the U.S. government, casinos operated by Indian tribes have become something of a shell game. Those who follow the issue can recite anecdote after anecdote involving lawyers in limousines showing up at the headquarters of one tribe or another offering tremendous wealth and opportunity to anyone willing to roll the dice and apply for a gaming license.
With billions of dollars at stake, you might think the Indian gaming industry is more heavily regulated than it actually is. But up until now the process in many states has been heavy on the influence-peddling and light on the responsibility to protect either taxpayers or the tribes.
The issue is at the forefront in Wisconsin now that U.S. Secretary of Interior Sally Jewell has given her approval to the Menominee tribe's initial proposal for a new casino that would be located outside the boundaries of its reservation.
The spread of off-site tribal casinos presents new challenges to state and federal regulators, who must evaluate the impact they will have on entire regions beyond what the U.S. Congress may have intended in the 1988 Indian Gaming Regulatory Act.
Under current law, all new Indian casinos must receive the approval of the Interior secretary, whose department includes the United States Bureau of Indian Affairs, and the governor of the state where any new operations will be located. In the case of the Menominee tribe's application, the decision rests now with Gov. Scott Walker.
Walker, whom many consider a likely candidate for the 2016 Republican presidential nomination should he win re-election in 2014, has issued a set of principles that should be viewed as a model for the nation. In essence, his decision to approve or reject an application for a new tribal-run casino will be determined by whether or not the community in which it is to be located supports it, whether a consensus exists among the state's 11 recognized Indian tribes that it should be built and, perhaps most importantly, that any new casino result in no net increase in gaming.
The idea that there be not net increase in gaming comes from Wisconsinite's themselves who, in 1993, voted to approve an advisory referendum directing that casino expansion in the state be limited which, given the adverse impact gaming establishments sometimes have on communities, reflects the wisdom of the common man and woman.
Under the Bush administration the standards attached to tribal gaming expansion were fairly rigorous. Considerable weight was given to the views of state and local officials as to the efficacy of each project. Under Obama however, the existing rules and procedures were loosened until they were dangerously ambiguous and without enough weight given to state and local concerns while the federal government provided even less oversight and scrutiny. Walker's three principles act as a corrective to Washington's neglect, and at a level where enforcement can truly be effective.
His principles also mark an important change in the direction of the industry in Wisconsin. Previously, the state negotiated separate compacts with each of the 11 recognized tribes. New casino operations, whether on or off tribal lands, will affect the existing compacts and create competition where none was intended, leaving everyone the worse off.
Moreover, if tribes are to be allowed to operate gaming establishments outside of reservation territory, it would mean taking unfair advantage of a provision in federal law that was designed to be a substitute for decades of inadequate federal aid. Gaming operations can bring financial resources and jobs to communities that need them, producing better schools, better living conditions, and greater opportunity – especially for the young. Without the requirement that all tribes concur on any act to expand gaming, it could lead to empire building that would adversely affect many tribes while enriching a few.
The Menominee now have 60 days to demonstrate their proposal is in sync with Walker's criteria. More importantly though is that these new standards have shown a way forward for those tribes that wish to expand their gaming operations to do so harmoniously with the interests of the state, the taxpayers, and the other tribes. Congress and the Obama administration, meanwhile, need to get a better hold on emerging problems at large-scale Indian gaming facilities. Rather than allow Indian gaming operations to continue to expand, it may be time to revisit the issue, to place reasonable limits on tribal gaming activities of the kind Wisconsin's governor has proposed.
The prior mistreatment of Native Americans, something of which we are all sadly aware, needs to be addressed. Allowing Indian gaming to flourish without reasonable limitation would be nearly the same as giving up on government aid in exchange for casino profits that would only perpetuate an unhealthy culture of dependency.
.     .     .     .     .     .     .     .     .     .     .     .     .     .     .     .     .     .     .     .
Peter Roff is a senior fellow at Frontiers for Freedom, a Washington, D.C.-based public policy organization advocating on behalf of limited government. Follow him on Twitter at @PeterRoff.