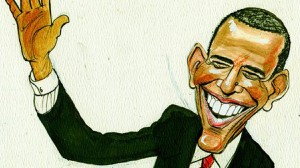 Not even with Democrats
by Ed Morrissey
After an avalanche of scandals hit the White House this spring, the Obama administration adopted the public-relations strategy of calling IRS political targeting, NSA domestic snooping, and the deaths of four Americans in an utterly predictable terrorist attack on a diplomatic facility "phony scandals." How's that working?  According to a new Fox poll, evenworse than you'd think.  The best response comes on the IRS story, where a whopping 33% agree that there's nothing to worry about … but 59% disagree:
Benghazi. Snooping on reporters. The IRS and NSA. The White House dismisses them as phony and fake scandals. Americans do not.
A Fox News national poll released last week finds that 78 percent of voters think the questions over the administration's handling of the terrorist attack on the U.S. consulate in Benghazi should be taken seriously. Just 17 percent call it a phony scandal. …
Meanwhile, 69 percent of voters say the National Security Agency's electronic surveillance of everyday Americans is serious, while 26 percent call that a fake scandal.
By a margin of 59-31 percent, voters are also more likely to view the seizure of reporters' phone records by the Justice Department as serious rather than phony.
And while the White House sees a Congressional investigation of the IRS targeting of conservative groups as a "distraction," 59 percent of voters take it seriously. Some 33 percent agree with the administration that it's fake.
Even Democrats aren't buying the "phony scandal" line.  The internals show that a near-majority of Democrats think that the IRS scandal should be taken seriously (49/42).  The gap among Democrats is much wider on the DoJ's pursuit of journalists' phone records, 59/32, even though it's mainly a case involving a Fox News reporter at the moment.
On the NSA, it's a rout among Democrats, with 68/27 arguing it needs to be taken seriously, but the most damaging of all are the results on Benghazi.  Leaders of the Democratic Party have suggested that the investigation is nothing more than a sly attempt to damage Hillary Clinton in advance of her presidential run in the 2016 cycle, but only 25% of Democrats believe that the deaths of four Americans constitute a "phony scandal." Seventy percent believe it should be taken serious, and that's the lowest rating among any of the demographics in the poll on that question.  Furthermore, 56% of Democrats think the White House is covering up what happened in Benghazi, and that's not a number that will damage Hillary alone.
There isn't a lot of good news in the poll for Obama elsewhere, either.  His job approval rating dropped from 46/47 two weeks ago to 42/52, although a shift in the partisan sample could account for that (40/34 Dem to 38/37 Dem).  His new campaign to boost Obamanomics is a bust, even among his fellow Democrats.  More than six in ten respondents overall believe Obama should be working with Republicans on a compromise rather than going on tour (63/24), including a plurality of Democrats (47/42).  Wide majorities say they're hearing nothing new from Obama in almost all demographics (71% overall), with a narrow plurality of Democrats agreeing (44/42).  Who does Obama think is listening, anyway?
.     .     .     .     .     .      .     .     .     .     .     .
Ed Morrissey is a columnist for Hot Air.