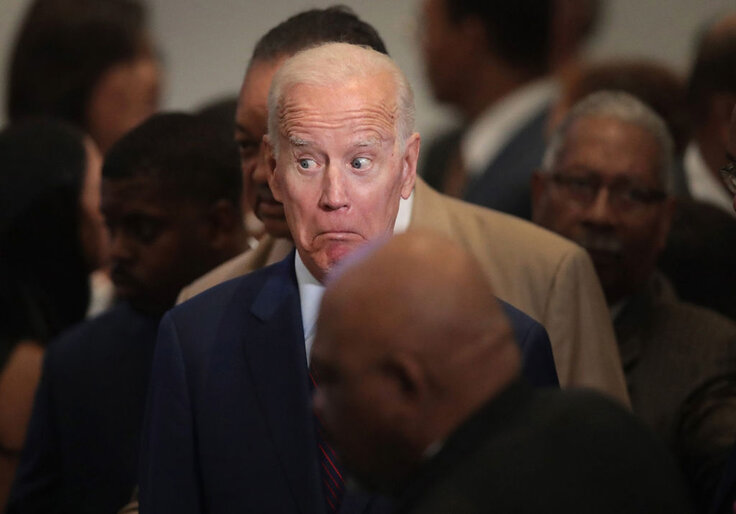 A wise man once said: "When the economy is bad, people blame the party in power. When the economy is good, people look at other issues."
Well, the economy is bad. Nice-sounding growth, job, and wage numbers do not count for much when the American standard of living is in decline. Inflation has outpaced income gains since last year. It remains at a 40-year high. Gas costs more than four dollars per gallon—sometimes much more—in every state. Americans under 40 years old are experiencing consumer delays, shortages, and scarce necessities, including baby formula, for the first time in their lives. According to the Pew Research Center, 70 percent of Americans say that inflation is "a very big problem."
It's also a very big problem for the party in power. President Biden's economic approval rating is 34 percent in the most recent CNN poll. His overall job approval rating is 41 percent in the FiveThirtyEight average of polls. Republicans have held a slight but durable lead in the congressional generic ballot since last October. The midterm election is less than six months away. To preserve their narrow majorities in Congress, Democrats need to change the trajectory of this campaign. Right now.
Their solution? Pretend that the election isn't a referendum on Biden's job performance but a choice between Biden and Donald Trump. Scare voters with references to the extremism of the right. Invoking Trump alone is not enough, however. Terry McAuliffe tried that approach during last year's Virginia gubernatorial campaign and it flopped. McAuliffe lost. Running against Trump and the Make America Great Again (MAGA) movement doesn't work when Trump is neither president nor on the ballot. Democrats have convinced themselves that victory in the fall requires something scarier than MAGA. It requires Ultra-MAGA.
On May 10 Biden contrasted his policies with the "Ultra-MAGA Agenda." Haven't heard of it? According to Biden, it's the brainchild of Senator Rick Scott of Florida, head of the National Republican Senatorial Committee. (In his remarks, Biden erroneously said Scott hails from Wisconsin.) Back in February, Scott released a policy document that remains controversial within the Republican Party and that few Republican candidates have endorsed in full.
Biden isn't subtle. He wants to use Scott's proposals as an electoral cudgel, just as Barack Obama campaigned against Paul Ryan's "Path to Prosperity" in 2012. Hence Biden's description of "the ultra-MAGA plan put forward by congressional Republicans to raise taxes on working families; lower the incomes of American workers; threaten the sacred programs American count on like Social Security, Medicare, and Medicaid; and give break after break to big corporations and billionaires." Biden says that his foes are not ordinary Republicans. They are not run-of-the-mill Trump voters. They are "Ultra-MAGA Republicans."
Someone has been spending too much time in focus groups. The Biden administration and congressional Democrats must think that the prefix "ultra" makes a noun sound spooky. But the president and his underlings will have to specify who really counts as an Ultra-MAGA Republican, what the Ultra-MAGA agenda entails, and when "ultra" should be capitalized before voters stop worrying about rising prices, violent crime, insecure borders, and craziness in schools. In its current usage, "ultra-MAGA" comes across as comical. It's a hackneyed slogan. Some people may even find it appealing.
White House press secretary Jen Psaki told reporters the other day that "ultra-MAGA" is the president's coinage for Republicans who support Rick Scott's plan, Justice Samuel Alito's draft opinion returning abortion law to the states, and Governor Ron DeSantis's (R., Fla.) fight with Disney. "And so," said Psaki, "to him, adding a little 'ultra' to it, gives it a little extra pop."
A little extra pop? What is Psaki talking about—a new flavor of Pringles?
The Democrats are unable or incapable of running on their accomplishments. Their economic agenda is discredited among voters grappling with inflation. Their traditional advantage on education has narrowed because of parental fury at school closures, mask rules, confusing COVID guidance, and politically correct school boards. They have fallen back on scaremongering and name-calling.
Not for the first time. Nor for the last. Expect the alarm bells to ring louder as autumn approaches. By Election Day, Biden will have moved from "Ultra-MAGA" to "Mega-MAGA," "Super-Duper MAGA," "MAGA Deluxe XXL," and, in homage to his love of ice cream, "All-Out Triple Scoop Chunky Monkey MAGA with Extra Deplorables." Voters will respond as they usually do when Biden speaks. They will ignore him.