Joe Biden likes to claim his plan to repeal the Trump tax cuts won't cause most Americans to see their taxes rise. That's wrong, say both a famed rapper and a noted anti-tax activist – a position backed up by a newly released study that also projects wages for an average American household will decline if his plan is enacted.
An analysis of the Biden plan released by Grover G. Norquist's Americans for Tax Reform said the passage of Biden's plan would lead to a top marginal rate of more than 60 percent on many households and small businesses.
This news did not sit well with the rapper 50 Cent – commonly known as "Fitty" – who threw his support to President Donald Trump, saying on Twitter "Yeah, I don't want to be 20 Cent. 62 percent is a very, very bad idea."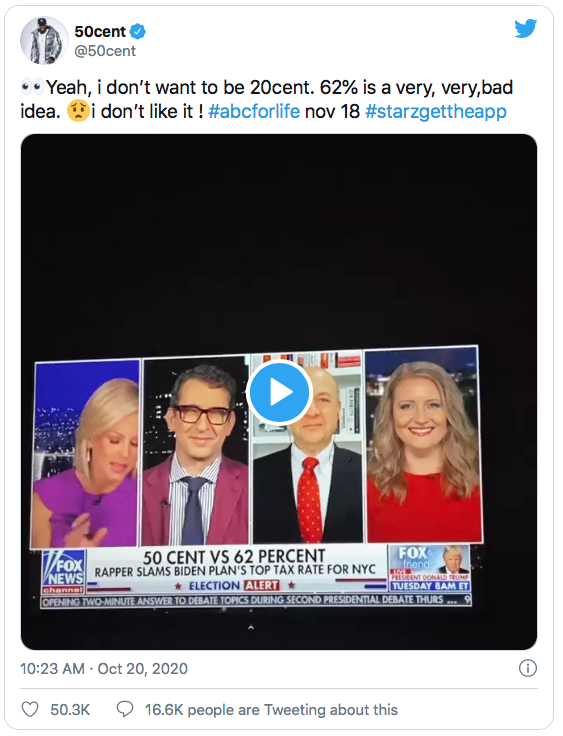 Under the Biden plan higher earners like the rapper, who was born Curtis James Jackson III, who are New York City residents could see their top rate go as high as 62 percent. "Are you out of ya (expletive deleted) mind?" he said through his social media account.
A separate study by Boston University economics professor Laurence J. Kotlikoff for the non-partisan Goodman Institute looked at the tax and Social Security changes that would occur under the Biden plan found that wages would decrease by $1,000 per year for households with income of $50,000 and by $2,000 per year for a two-earner couple making $100,000. Additionally, because the $400,000 threshold in the former vice president's plan is not indexed, couples who start out with a modest income in their 20's could end up "paying the Biden tax by the time they are in their 50's."
The Goodman study also found the tax discriminated based on age, with younger entrepreneurs facing "six times the extra burden on retirees with the same income in their 60's, living off accumulated wealth."
Biden has vowed to steeply raise personal income taxes and impose an additional 12.4 percent payroll tax (along with a doubling of the capital gains rate to 40 percent). New York has an 8.82 percent income tax and New York City takes another 3.876 percent. Ironically, his plan would have the biggest impact on taxpayers in blue cities and states – his base of support in the upcoming election – because they typically impose a higher tax burden on their residents.
"50 Cent speaks the truth when he says no one should have 62 percent of any dollar they earned taken by government. 50 Cent speaks not just for rappers but for millions of small businessmen and women who would be hit by the high tax rates threatened by Biden and New York," Norquist said.
Other studies that have looked at the Biden plan, including those from The Tax Foundation, the Tax Policy Center, and Penn/Wharton all projected taxes will rise on all income groups if the Biden plan becomes law.