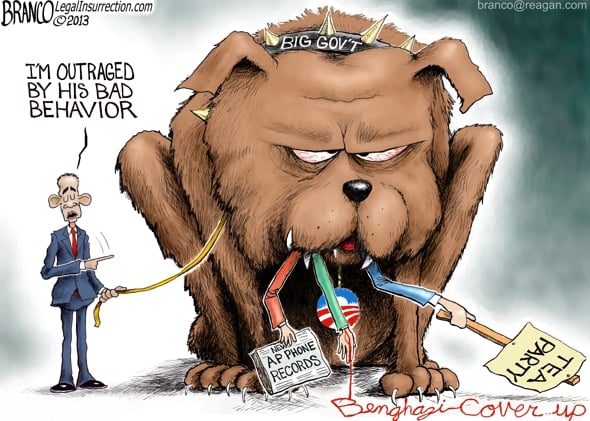 Now 72% say it is greater threat than big business or big labor
Seventy-two percent of Americans say big government is a greater threat to the U.S. in the future than is big business or big labor, a record high in the nearly 50-year history of this question. The prior high for big government was 65% in 1999 and 2000. Big government has always topped big business and big labor, including in the initial asking in 1965, but just 35% named it at that time.
Gallup has documented a steady increase in concern about big government since 2009, rising from 55% in March 2009 to 64% in November 2011 and 72% today. This suggests that government policies specific to the period, such as the Affordable Care Act — perhaps coupled with recent revelations of government spying tactics by former NSA contractor Edward Snowden — may be factors. . . .
Americans have consistently viewed big government as a greater threat to the United States than either big business or big labor, but never more than they do now. That may be partly a reaction to an administration that favors the use of government to solve problems. Also, the revelation of widespread government monitoring of U.S. Internet activity may be a factor in raising Americans' concern about the government. The threat of big business may seem diminished now, during a relatively calm period for big business, with rising stock values and relatively few major corporate scandals such as occurred in the early 2000s. Also, the labor movement is far less influential in U.S. policy today than in the past, including in 1965, when Gallup first asked the question.
.     .     .     .     .     .     .     .     .     .     .     .     .     .     .
Jeffrey M. Jones wrote this story and works for Gallup polling where the full story can be found.