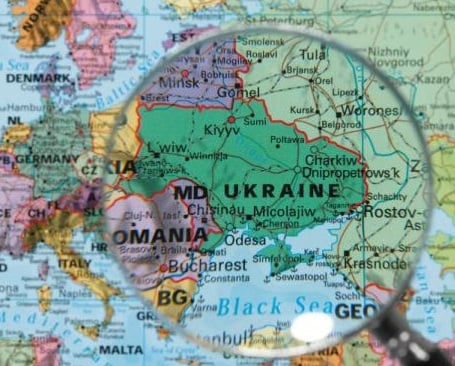 by Oren Dorell
Russia's cutoff of natural gas supplies to Ukraine on Monday is a reminder that Ukraine is still highly dependent on its powerful neighbor.
"They're going to need the gas, there's no question about it," said Ian Brzezinski, an analyst at the Atlantic Council who was deputy assistant secretary of Defense for Europe and NATO under former president George W. Bush.
Ukraine's economy is so dependent on Russian natural gas that the cutoff threatens manufacturing plants, could cause massive layoffs and imperils newly elected President Petro Poroshenko to turn the economy toward Europe, Brzezinski said.
Russia cut the supplies as Monday's payment deadline passed and negotiators failed to reach a deal on prices and unpaid bills amid continued fighting in eastern Ukraine. The decision does not immediately affect the gas flow to Europe but could disrupt the long-term energy supply to the region if the issue remains unresolved.
Gazprom spokesman Sergei Kupriyanov said that since Ukraine had failed to pay anything for the gas by Monday, from now on the company would demand advance payment for any future deliveries.
"Gazprom supplies to Ukraine only the amount that has been paid for, and the amount that has been paid for is zero," Kupriyanov said.
An explosion occurred Tuesday on the Urengoi-Pomary-Uzhgorod gas pipeline in the Lokhvytsia district of the Poltava region of Ukraine, Interfax Ukraine reports, quoting the press service for the Ukrainian Interior Ministry's department in the region.
The cause of the fire and explosion was no immediately clear. It occurred about a half-mile from a populated area, Interfax reports. The explosion was first reported by Kiev Post in a tweet.
The pipeline to Ukraine also carries gas meant for Europe, but Kupriyanov said that the supply to Europe will continue as planned.
Ukraine's Naftogaz company head Andriy Kobolev said the country can manage without Russian gas until December.
Ukraine has fallen chronically behind on payments for gas needed to heat homes and fuel its industries. The gas conflict comes in the midst of a crisis in relations with Russia, which annexed Ukraine's Crimea province in March. Ukraine accuses Russia of supporting a separatist insurgency in its eastern regions, which Russia denies.
On Saturday, pro-Russian separatists shot down a Ukrainian troop transport, killing all 49 people aboard. Ukrainian demonstrators spattered the Russian Embassy in Kiev with paint and eggs and overturned cars.
Ukraine would need years to diversify its sources of natural gas and improve conservation enough to become free of its dependence on Russian gas. It also runs the risk of alienating its Western friends if the dispute disrupts gas flow to Western Europe.
The Russian move "shows that Russia is trying to use energy to further destabilize Ukraine and to separate Ukraine from central and western Europe," Brzezinski said.
.     .     .     .     .     .     .     .     .     .     .     .     .     .     .     .
Oren Dorell covers breaking news and foreign affairs for