Rep. Jordan says report shows IRS Commissioner has to go
by Ali Meyer     •     Washington Free Beacon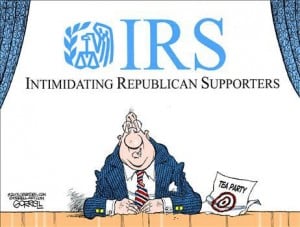 The Internal Revenue Service (IRS) was "delinquent" in its handling of processing Tea Party and conservative groups applications for tax-exempt status, according to a Senate Finance Committee's report released on Wednesday.
The bipartisan report was the result of the Committee's two-year investigation into the IRS' targeting of conservative groups.
"Our investigation found that from 2010 to 2013, IRS management was delinquent in its responsibility to provide effective control, guidance, and direction over the processing of applications for tax-exempt status filed by Tea Party and other political advocacy organizations," the committee said.
Republicans argue that the targeting of conservative groups was driven by the Obama administration's political agenda, while Democrats claim that there was no evidence of political interference.
"The Committee found evidence that the administration's political agenda guided the IRS's actions with respect to their treatment of conservative groups," said Sen. Orrin Hatch (R., Utah) who chairs the committee. "Personal politics of IRS employees, such as Lois Lerner, also impacted how the IRS conducted its business."
Sen. Ron Wyden (D., Ore.) disagrees. "The results of this in-depth, bipartisan investigation showcase pure bureaucratic mismanagement without any evidence of political interference," said Wyden. "Groups on both sides of the political spectrum were treated equally in their efforts to secure tax-exempt status."
While the Senate's two-year investigation comes to an end, the House Oversight and Government Reform Committee is pushing for removal of IRS Commissioner John Koskinen.
"The Senate Finance Committee's report on the IRS targeting of conservative non-profits reinforces the House Oversight and Government Reform Committee's call for IRS Commissioner John Koskinen to go," said Rep. Jim Jordan (R., Ohio). "The Finance committee's report shows that Koskinen failed to cooperate with congressional investigations, which frustrated not only Republicans but also the committee's ranking member, Senator Ron Wyden."
"Koskinen's IRS failed to preserve documents, and failed to update and inform Congress in a timely matter about its internal efforts to comply with congressional investigations," said Jordan. "Koskinen gave false testimony before Congress and then failed to correct the record when the House Oversight committee learned he was wrong."
"The Senate Finance report only confirms what my colleagues and I in the House have called for. Koskinen must go," he said. "And if President Obama doesn't remove him, then Congress must act."