Of my company's 5,453 eligible employees, only 420 actually enrolled. The other 5,033 opted to pay a penalty.
by Andy Puzder     •     The Wall Street Journal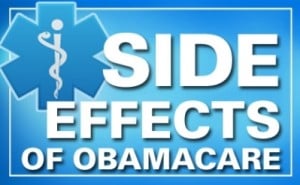 Among the Affordable Care Act's many economic and political disruptions, the law has unintentionally encouraged employers to convert full-time jobs into part-time jobs. ObamaCare mandates that employers offer health insurance to employees who work more than 30 hours a week, or pay a penalty up to $3,000 an employee. But employers have no such obligation for employees who work less than 30 hours a week, making part-time employment less costly.
It's a simple fact: Make something more expensive and people will use less of it; make something less expensive and they will use more of it. So naturally employee hours have been reduced, particularly in the retail segment, which has lowered wages and reduced consumer spending.
On Thursday the House addressed this issue by passing by 252-172 the Save American Workers Act, a bipartisan bill that would restore the definition of "full-time employee" to the 40-hour workweek threshold. Now it will head to the Senate, where Republicans will need six Democratic votes to send the legislation to the White House, which has already threatened to veto it. This isn't Republicans' first try; in April 2014, the House passed a near-identical measure that, like so many other bills, died in Democrat Harry Reid 's Senate.
The White House is concerned that this legislation would substantially reduce the number of Americans with employer-based health insurance and encourage employers to reduce the hours of employees currently working 40 hours a week. As it turns out, such concerns are unfounded.
After two constitutionally dubious delays, ObamaCare's employer mandate took effect on Jan. 1 for employers with 100 or more full-time employees. The last open-enrollment date for our company, CKE Restaurant Holdings, Inc., was Dec. 4, 2014. As of that date, our company had approximately 20,000 employees, 6,900 of whom worked 30 or more hours a week and were eligible for ObamaCare-compliant health insurance. We elected to offer them coverage rather than pay the employer penalty, which would have sent workers to ObamaCare's health-insurance exchanges, where those who qualified could receive federal subsidies to help pay for insurance.
Of the 6,900 eligible employees, 1,447 already had ObamaCare-compliant insurance through our pre-existing company plans. That left 5,453 employees eligible to sign up. A grand total of 420 actually enrolled. That's a mere 2% of total employees, or 6% of eligible employees.
ObamaCare will penalize the 5,033 eligible employees who elected not to enroll, unless they have compliant health insurance from another source. For 2015, the penalty is the higher of $325 or 2% of annual household income above about $10,000. The 5,033 employees who declined insurance make $24,663 a year on average. As a result, the employees without insurance generally will pay the $325 penalty, as it takes $26,250 before the 2% penalty is higher.
The employee portion of the annual premium for our least-expensive "bronze plan" is $1,104. If you don't believe you need health insurance, $325 beats $1,104. But employees compelled to pay the penalty still won't have compliant insurance. For those who want insurance, then, we offer all our employees—full and part time—access to inexpensive group health-care coverage that is not ObamaCare compliant.
Concerns that companies would shift 40-hour employees to 39-hours or less are also unfounded. First, the Bureau of Labor Statistics defines "full-time workers" as "[p]ersons who work 35 hours or more per week." So contrary to White House claims, many full-time employees work less than 40 hours a week. In fact, in December Americans workers averaged 34.3 hours a week, according to BLS.
As noted above, 78% of our employees who enrolled in ObamaCare-compliant coverage already had such coverage through our company plans. We offered insurance to compete with other employers and because of the tax-exclusion for employer-sponsored insurance. The company didn't need an hourly requirement or any other government compulsion. If the hourly requirement were changed to 40 hours, our company would continue offering these individuals employer-sponsored coverage.
Of the 420 employees who enrolled in ObamaCare-compliant coverage, 197—less than 1% of our workforce—work 40 hours or more a week. Reducing their hours would cause problems. If we did, some employees would work for our competitors instead. Other employees such as cooks and shift leaders work more than 40 hours a week because they offer expertise we need to run restaurants.
So what does ObamaCare's 30-hour rule accomplish? Some would argue that it does a lot, pointing to the previously uninsured who now have employer-sponsored health insurance. In our company, that would be 2% of total employees and 6% of eligible employees.
For results like that, ObamaCare has caused millions of full-time jobs to become part-time, imposed a tax on lower-income workers who cannot afford it, forced millions of people out of insurance they liked, restricted access to doctors for millions of others, and created an enormous bureaucracy that discourages our doctors and nurses while suppressing health-care system innovation.
People don't seem to think the trade-off is worth it, as our company's pathetically low enrollment rate shows. That doesn't mean Americans want to return to the pre-ObamaCare health-insurance market. The ultimate solution is market-based health-care legislation that is comprehensible, read and debated by the people voting on it, and, most important, actually provides affordable coverage to those who want it.
Meanwhile, returning the definition of full-time work to 40 hours a week would be a good place to start, addressing a serious problem for workers and businesses.