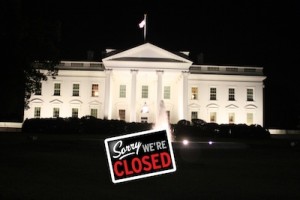 It may be one of the most serious missteps of the federal government shutdown.
After weeks of planning, the nation's spy chief sent home nearly three-quarters of the workers at the government's intelligence agencies when faced with the partial shutdown. The move, James Clapper later admitted himself, put the United States at greater risk of terrorist attacks. He then reversed course and brought thousands of employees back to work.
A review by McClatchy finds that lawmakers, former intelligence officials and national security experts say they were shocked that the administration furloughed the bulk of federal workers at 16 intelligence agencies, many of them tasked with the most important job in the government: safeguarding lives.
"It's difficult for me to understand," said Leon Panetta, who served as the director of the CIA and the secretary of defense under President Barack Obama. "People that are involved in our intelligence are critical. You can't possibly put 70 percent on furlough and not harm national security."
The United States' intelligence community has grown dramatically since the Sept. 11, 2001 terrorist attacks, with countless employees working with new sophisticated tools to save lives at home and abroad. But in the first government shutdown since 2001, the administration kept active-duty troops on the job while civilian employees who monitor and analyze threats across the globe were sent home.
"Intelligence is our first line of defense," said Gene Poteat, a retired CIA officer who heads the Association of Former Intelligence Officers.
Some accuse Obama administration officials of deciding whom to send home based on politics, seeking to dramatize the impact of the shutdown as part of a plan to blame Republicans in the House of Representatives for blocking a budget deal and failing to pay for important or basic services.
"The president is, of course, taking every step necessary as president to ensure the security of the American people," White House spokesman Jay Carney said. "There are consequences to shutdown, and they extend far beyond closures of parks and memorials or other things that we've heard a lot about."
But others say the process was surprisingly haphazard – a moving target based on public pressure, differing legal opinions, a new law passed to ensure that the military got paid, even a change of heart.
J. David Cox Sr., the national president of the American Federation of Government Employees, which represents 670,000 federal workers, said some managers had changed their minds after being criticized by the public or lawmakers.
"There's absolutely no rhyme or reason to it," he said. "They keep changing the rules. As the pressure is on, they're saying, 'Just come back to work.' "
Spokesmen at the White House and National Security Council referred specific questions to Clapper, the director of national intelligence. His office didn't respond to repeated requests for comment.
Clapper, 72, a retired lieutenant general in the Air Force, served in several key positions in the intelligence community before Obama nominated him as the director of national intelligence in 2010, the office's fourth director in a post that was created after the 2001 attacks. The Senate confirmed him unanimously, but his relations on Capitol Hill have been strained in recent months after he lied to lawmakers about the scope of the government's vast surveillance programs.
Clapper's office initially estimated that 72 percent of intelligence employees had been furloughed, though the exact numbers are classified. By comparison, just 14 percent at the Department of Homeland Security and 5 percent at the Veterans Affairs Department were furloughed at the onset.
"The damage will be insidious," Clapper said at a Senate Judiciary Committee hearing Oct. 2 in answer to a question. "Each day that goes by, the jeopardy increases."
In a report to Congress, Clapper said the decision had crippled his own office as well as the CIA, the National Security Agency, the Defense Intelligence Agency, the National Geospatial-Intelligence Agency and the National Reconnaissance Office, and had virtually wiped out intelligence agencies at the Departments of State, Treasury, Energy and Homeland Security. At the NSA alone, an estimated 960 Ph.D.s, 1,000 mathematicians and 4,000 computer scientists had been sent home.
NSA Director Keith Alexander said those employees who remained at work would focus on "the most significant counterterrorism and other threats that we see and support our military forces in Afghanistan and overseas."
"Our country is at heightened risk of a terrorist attack," Sen. Dianne Feinstein, D-Calif., the chairwoman of the Senate Intelligence Committee, said after receiving the report from Clapper.
Clapper told senators that he couldn't guarantee that the United States would remain safe, something he said he'd warned Obama about as the shutdown began: "I don't feel I can make such a guarantee to the American people, and it will be much more difficult to make such a guarantee as each day of the shutdown goes by."
Though some conservative Republicans questioned whether he was exaggerating to make the situation appear more dire, national security experts say they didn't doubt Clapper.
"When you're taking out more than two-thirds of your workforce, you're not going to be as effective," said Robert Turner, associate director of the Center for National Security Law at the University of Virginia and a former national security adviser to President Ronald Reagan and Congress.
Jim Reese, a former special forces officer who's now the CEO of TigerSwan, which advises companies and executives around the world about security, said Clapper's comments were "100 percent spot on."
"I'm telling you right now there will be holes," he said.
Individual federal agencies made their own decisions about who'd be furloughed well before the shutdown, using guidance from the White House Office of Management and Budget and a 1980 Justice Department opinion that indicates that those who protect life and property are "essential" and can remain working, aides and observers say.
Clapper told senators that he didn't consider any employee "nonessential" but that the law required him to make "painful choices." By law, he's charged with overseeing the intelligence agencies.
Bruce Hoffman, the director of the Center for Security Studies at Georgetown University and a former scholar in residence for counterterrorism at the CIA, said it was surprising that the guidelines hadn't changed over the years since so much else had changed in the intelligence community since the last shutdown, in the winter of 1995-96. In just the last year or so, the United States saw terrorist attacks at the Boston Marathon, which killed three people, and at a diplomatic facility in Libya, which killed four Americans, including a U.S. ambassador.
Todd Harrison, a senior fellow for defense budget studies at the Center for Strategic and Budgetary Assessments, said a "simple reading" of those documents should have persuaded officials at intelligence agencies that civilian employees shouldn't have been sent home. "They should never have been furloughed if there was a risk to loss of life," he said.
A day after Clapper's congressional testimony, on Oct. 3, his office began summoning an undetermined number of employees back to the National Counterterrorism Center, the National Counterproliferation Center, the Office of the National Counterintelligence Executive and the National Intelligence Council.
A week later, the CIA began bringing back thousands of workers more after Director John Brennan cited concerns about the "potential adverse cumulative and unseen impact on our national security."
The agencies didn't say how it was allowed to bring back employees who were deemed "nonessential" just days before. But some national security experts say agencies liberally interpreted language in a new law that was passed to pay troops during the shutdown but that also allowed civilian employees to return from furlough if they provide direct support to the military.
That same law allowed Defense Secretary Chuck Hagel to bring back most of the Pentagon's 350,000 civilian employees and permitted Rand Beers, the acting secretary of homeland security, to reinstate most civilian workers for the Coast Guard.
Rep. Howard "Buck" McKeon, R-Calif., the chairman of the House Armed Services Committee, said he welcomed civilian employees returning to work, but questioned why they were furloughed in the first place.
"Congress gave the executive branch broad authority to keep our armed forces and dedicated defense civilians working throughout the government shutdown," he said. "Though I do not believe the law required these hundreds of thousands of workers to be furloughed in the first place, it is welcome news."
Panetta, who's seen his share of shutdowns and near-shutdowns as a former chairman of the House Budget Committee, former OMB director and former White House chief of staff, said lawyers generally could offer varying opinions, based on the outcome an agency wants.
"They made a call probably without really knowing the facts," he said. "You get the impression they are doing things by the seat of their pants. . . . Who are we kidding here? These kinds of decisions are subjective."
.     .     .     .     .     .     .     .     .     .     .     .     .     .     .     .     .     .
Anita Kumar is a journalist at the McClatchy Washington Bureau.