A bit of my childhood died this week, when I learned Tom Seaver, the Hall of Fame pitcher and greatest Met to ever wear the uniform, had died on Monday, reportedly from complications of Lewy body dementia and COVID-19. He was 75.
When I was a boy at Bear Ridge Elementary School in Mount Pleasant, New York, Seaver was one of my heroes. He loomed larger than life, the guy who won 20 games a season with ease, striking out more than 200 batters a year like it was nothing.
His baseball card, which I never seemed to get, was the one I most hoped to collect. To the best of my recollection, I never saw him pitch at Shea Stadium. I wasn't even that much of a baseball fan—but every young person needs a hero or two to look up to, and given the affinity most of my classmates had for sports figures, I picked him.
It wasn't an odd choice. He was "the Franchise," though no one called him that. Almost single-handedly, he turned the lovable but perpetually losing New York Mets into contenders and World Series champions. It wasn't that that I identified with him—no, sir. On the diamond, as part of the North Castle Little League's Angels, my baseball abilities were on par with Charlie Brown's. Seaver was something special, the kind of player my dad and his dad might have seen at New York City's Polo Grounds, back when baseball players were figurative as well as literal Giants, or at Yankee Stadium in the days of Mantle and Berra and Rizzuto.Ads by scrollerads.com
Seaver's record is still amazing and, like Joe DiMaggio's still unbroken streak of hitting safely in 56 straight games, likely never to be matched. He struck out 200 or more batters each season from 1968 to 1976, a nine-year run that remains the longest in league history. He's one of 10 pitchers with 300 wins and 3,000 strikeouts and holds the record for striking out 10 consecutive batters in a game.
Overall, in 12 seasons with the team (1967 through 1977 and 1983), he had 198 wins and 124 losses, with a 2.57 earned run average. He pitched 171 complete games as a Met, appeared in eight All-Star contests, won three Cy Young Awards and the 1967 National League Rookie of the Year award, and, in 1992, became the first Met enshrined in Cooperstown. Tom Terrific didn't just show up—he dominated the game every time he pitched, especially during those first golden years, before the evil M. Donald Grant, then the team's general manager, traded him away to another team.
The day that happened was a dark one. The greatest of the greats, as my friends and I saw it, at least, had been done in by an act of villainy unmatched outside of Shakespearean tragedy (which, thanks to our English teachers Mrs. Weinreb, and Mrs. Nolan and Ms. Nask, had become at least a familiar concept).
Life went on after that, but it was never the same. Heroes, as General Douglas MacArthur famously said of old soldiers, fade away. Young men develop interests that overtake the attention and adoration given childhood idols. Playing for the Cincinnati Reds, Seaver finally pitched a no-hitter against the St. Louis Cardinals in 1978, but by then, it was no big deal to me. Though I'm sure it meant a lot to him.
His passing, however, takes a little bit of me with it. The ancient Greeks and Romans reminded us repeatedly that glory is fleeting. So are youth and memory. Which is why it is so important to hang on to what we can for as long as we can.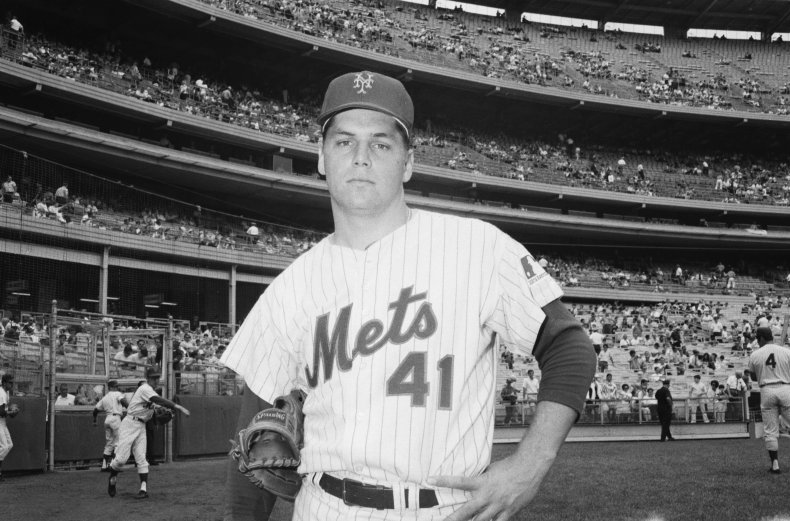 Hall of Famer Reggie Jackson reportedly said, "Blind men come to the park just to hear him pitch." He'd know. "Mr. October" faced Seaver on the mound 37 times, hitting just .226 and striking out 13 times. He probably remembers every pitch, every swing, every crack of the bat when he connected with the ball and every smack on leather when it went through the strike zone into the catcher's mitt.
For me, I'll remember Sunday afternoons at Shea with my dad, gone four years now this coming October, for as long as I can. We didn't go often. When we did, it was something special. I hope it meant a lot to him too. I can still remember the cellophane-topped sodas and beers sold in waxed cups by the guys from Harry M. Stevens, the hot dogs sold in the stands and the excitement rising up from the crowd when the Mets got a hit, followed by groans of disappointment when the inning ended with runners left on base. Some things, with the Mets, at least, never change.
Now Tom Terrific is gone, hopefully off somewhere in Iowa pitching a perfect game that only those lucky enough to genuinely believe can see. For me, I'm reminded of the need to hang on as best I can to the best moments in life for as long as I can because, like it or not, they don't last forever.