By Eliza Collins     •     Washington Free Beacon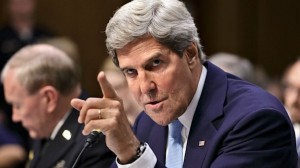 The State Department is counting "bringing peace" to Syria as one of its wins in 2015.
A boastful recap of the State Department's accomplishments, written by spokesman John Kirby, includes the bold subheadline of "Bringing Peace, Security to Syria" above a more modest entry talking about U.S. aid for those affected by the country's turmoil and the U.S. push for a political transition from President Bashar Assad.
While Secretary of State John Kerry has played an integral role in the Syrian peace talks, the country remains embroiled in a nasty civil war and terrorized by the Islamic State.
"The United States and many members of the international community have stepped up to aid the Syrian people during their time of need — the United States has led the world in humanitarian aid contributions since the crisis began in 2011," Kirby said.
Kirby wrote that the Syrians have "borne a heavy load" but that under Kerry's stewardship the United Nations passed a U.S.-sponsored resolution to create a road map for Syria going forward.
The apparent declaration of a win echoes comments from President Barack Obama, who has been heavily criticized for calling the Islamic State a "JV team" in a January 2014 article and for calling the group's territorial expansion efforts "contained," just days before the Paris attacks.
Kirby also explicitly touched on the Islamic State, also called ISIL, saying that the U.S. is "winning [the] fight against violent extremists."
"Although challenges remain, we have made positive strides over the last year, including in our fight against ISIL," Kirby said. "This forward progress will only continue as more countries pledge resources to the anti-ISIL effort and as citizens around the world increasingly reject ISIL's misguided ideology."
Kirby cited the White House Summit on Countering Violent Extremism, hosted in February, which he called "monumental."
Other things the State Department is counting as wins: re-establishing ties with Cuba, protecting the Arctic, clinching the Iran nuclear agreement, stopping the Ebola outbreak, committing to U.N. development goals, securing a free trade deal, preserving ocean health, and reaching the climate agreement.