"Given our growing debt, can't they even slow the growth of government to the rate of inflation? Or inflation plus 1 percent? . . . That might balance the budget within a decade. But the spenders won't even give me that. They want more. Always more."
by John Stossel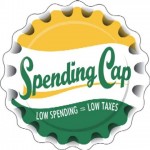 Listening to progressive media pundits, I'd think the most evil man in the universe is Grover Norquist, head of Americans for Tax Reform. His crime? He heads a movement that asks political candidates to pledge not to raise taxes.I think Grover accomplished a lot. But I wish he'd convinced politicians to pledge not to increase spending.
President Obama says raising taxes to cut the deficit is a "balanced" approach.
Balanced …
But what's "balanced" about raising taxes after vast increases in spending? Trillions for war, Medicare, "stimulus" and solar panels. Tax receipts rose — after tax-rate cuts — from $1.9 billion in 2003 to $2.3 billion in 2008, the year the recession started. That increase couldn't keep up with the spending. The deficit doubled — actually, more than doubled — as politicians increased spending to nearly $4 trillion! Our debt, at more than $16 trillion, now exceeds our gross domestic product.
Ludicrous, irresponsible spending is why we're in trouble. As columnist Ron Hart points out, Bill Clinton's balanced budget spent $1.7 trillion. "Adjusted for inflation," he writes, "our federal government would (have) a $200 billion surplus. But instead of increasing government spending in line with normal inflation, under Bush and Obama we are spending $3.8 trillion today. Democrats, who believe we have a 'revenue' problem instead of a 'spending' problem, must also think they have a bartender problem, not a drinking problem."
The media obsess about tax rates, but spending is more important. As Milton Friedman taught us, spending is a far more accurate gauge of the government burden. If government spends a dollar, that dollar is taxed away from someone. If it's borrowed, it's removed from productive use, setting the stage for higher taxes later. If the government prints more dollars to fund spending, our purchasing power falls. Transferring purchasing power from the people to the government via inflation is a form of taxation.
If Republicans and Democrats reach a deal, the tax increases will be real — but spending "cuts" probably illusions. If they actually happen, they will only be reductions in already planned increases. The Wall Street Journal notes that when the two parties talk about cutting spending by $4 trillion over a decade, "those numbers have no real meaning because they are conjured in the wilderness of mirrors that is the federal budget process. Since 1974, Capitol Hill's 'baseline' has automatically increased spending every year according to Congressional Budget Office projections … . Tax and spending changes are then measured off that inflated baseline."
Given our growing debt, can't they even slow the growth of government to the rate of inflation? Or inflation plus 1 percent? Or even inflation plus 2 percent? That might balance the budget within a decade.
But the spenders won't even give me that. They want more. Always more.
Jonathan Bydlak, founder of the Coalition to Reduce Spending, has a good idea. "It's important to do for spending what Norquist has done for taxes: create a means for voters to hold elected officials accountable when they break campaign promises of fiscal responsibility."
Bydlak has no time for any politician who pledges not to raise taxes without pledging to cut spending. He praises Doug Collins, representative-elect from Georgia, and Ted Cruz, senator-elect from Texas, for signing the Reject the Debt pledge and thereby promising voters they would:
"ONE, not vote for any budget that is not balanced nor for any appropriations bill that increases total spending; and TWO, consider all spending open for reduction, and not vote to authorize or fund new programs without offsetting cuts in other programs."
Well, sure. Good luck to him.
But people are reluctant to give up their favorite programs. Or any programs.
Let's not fool ourselves about how dependent politicians have made people on government.
To succeed, the crusade to cut spending needs an ideological understanding of how unsustainable our current course is, not just a narrow appeal to short-term self-interest. People will have to see the wisdom of giving up government benefits now — in exchange for something more abstract: a future free society in which our children won't be burdened by debt and taxes.