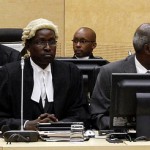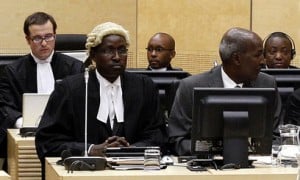 Evans Monari is a senior litigation attorney in Kenya who has, as noted in his official firm biography, "represented various clients in public inquiries and inquests. In 2011 he successfully led several international criminal lawyers in the defense of Gen. Mohammed Hussein Ali, former head of the Kenya Police, before the International Criminal Court at The Hague."
By Evans Monari • Lawfare Tyranny
After weeks of judicial inactivity, the International Criminal Court last Thursday issued four significant rulings, by three theoretically independent organs.
The Prosecution formally closed its case — exactly two years after the case opened, and four years after the confirmation hearing. The Trial Chamber granted the Defence teams the opportunity to appeal seven issues emanating from its controversial decision to admit the recanted statements of five witnesses.
And, as a distracting side show, the Pre-Trial Chamber unsealed two new warrants of arrest for Kenyans accused of witness interference, Paul Gicheru and Philip Kipkoech Bett, and reaffirmed an existing warrant of arrest for Walter Barasa.
It is not coincidental that these rulings were delivered simultaneously.
---