by the Oklahoman Editorial Board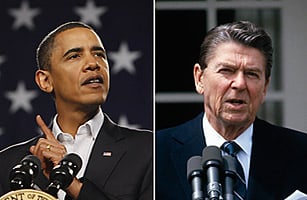 Barack Obama has always seen himself as an agent of change, a la Ronald Reagan. His goal was to do for progressive politics what Reagan had done for conservatism.
Thus it was no surprise that he parroted a Reagan trope in recently asking the question of whether Americans are better off today than when he took office — and then answering his own question by concluding that "the country is definitely better off than we were when I came into office."
For Reagan, it was a campaign strategy drawn as a weapon against Jimmy Carter in 1980. Are you better off, he asked voters, than you were four years ago?
Such comparisons aren't unique to Reagan and Obama, of course, but Reagan put his own stamp on it — quite successfully as it turns out.
"By every economic measure," Obama told college students the other day, "we are better off than when I took office." So not only has this president adopted the Reagan line (even crediting Reagan). He's turned it into yet another example of repeated, robotic rhetoric in the endless campaign speeches made by a man "who is not running for anything except the exit," in the words of Caroline Baum, a former Bloomberg News columnist. Continue reading →
---