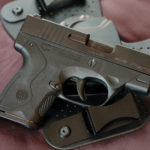 by Stephen Gutowski • Washington Free Beacon
New Hampshire became the latest state to adopt a permitless concealed gun carry policy on Wednesday.
Governor Chris Sununu (R., N.H.) signed the legislation that allows anyone in New Hampshire to legally carry a gun so long as they are legally allowed to possess a gun. The measure removes the permitting process that had previously been required for gun carry.
New Hampshire is the first state to enact permitless carry, often called constitutional carry by gun-rights activists, since the Missouri legislature overrode a veto to pass the policy into law in September. It is the 12th state to adopt some form of permitless carry since 2003 and the 11th to do so within the last decade. Including Vermont, which has never restricted gun carry, there are now 13 states with some form of permitless carry. Continue reading →
---