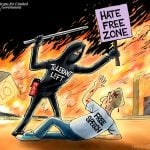 by Katherine Timpf • National Review
Nobody likes a mean person, and it's better to be nice. But there is nothing nice about restricting students' speech.
The University of Montana Western has a policy that allows for punishing students for "mean" words or "facial expressions" — and that punishment could technically be as severe as expulsion.
"While discussions may become heated and passionate, they should never become mean, nasty or vindictive in spoken or printed or emailed words, facial expressions, or gestures," states the Student Code of Conduct.
Another area of the code states that "committing any act prohibited by this Code of Conduct may result in expulsion or suspension from the University unless specific and mitigating factors are present."
"Factors to be considered in mitigation may include the present attitude and past disciplinary record of the offender, as well as the nature of the offense and the severity of any damage, injury, or harm resulting from it," the code continues. Continue reading →
---