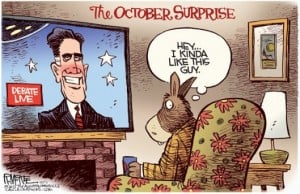 By George Landrith
The conventional wisdom is that President Barack Obama connects with the average American in a way that few politicians can. The media tells us that Obama is likable and relates. In contrast, conventional wisdom says that Gov. Mitt Romney is stiff, can't relate, and doesn't really like "regular" people.
It turns out the conventional wisdom is wrong on both counts. Daniel Halper, the Online Editor of the Weekly Standard, provides this insight into Obama's personality and reveals that Obama doesn't like people.
Neera Tanden, a former aide to both Bill Clinton and Barack Obama, had this to say about the relationship of the two presidents:
"Clinton, being Clinton, had plenty of advice in mind and was desperate to impart it. But for the first two years of Obama's term, the phone calls Clinton kept expecting rarely came. "People say the reason Obama wouldn't call Clinton is because he doesn't like him," observes Tanden. "The truth is, Obama doesn't call anyone, and he's not close to almost anyone. It's stunning that he's in politics, because he really doesn't like people. My analogy is that it's like becoming Bill Gates without liking computers."
It's a revealing statement from Tanden, who "served as senior advisor for health reform at the Department of Health and Human Services, advising Secretary Kathleen Sebelius and working on President Barack Obama's health reform team in the White House to pass the bill," according to her bio at the Center for American Progress. She is currently president and CEO of the liberal organization.
Ron Kessler, the Washington chief correspondent for NewsMax, has written extensively on Mitt Romney and has covered how he has throughout his life reached out to the less fortunate — not merely with generous donations, but with a personal commitment of time and interest. Whether it was a young boy dying of cancer and Romney helping him write his "will," whether it was a young father and wage-earner who was seriously injured by a fall off a roof, and Mitt's visit and personally crawling up on the roof to finish the repairs, Mitt Romney is a man who seems to like people and seems to like helping them.
The media has admitted that Romney is very generous in his personal contributions to charity — donating tens of millions of dollars every year. But the mainstream media has not told the American public of Romney's life long commitment to reach out to others on a personal level and in a personal way to lift them. There is a reason for this — giving Romney credit for big dollar donations can be worked into their false narrative that he is a rich out of touch guy. But telling the truth about Romney's many kind and personal acts of service would explode their narrative. So the media dishonestly hides those facts.
The bottom line is that the conventional wisdom is often wrong and it appears that the personally popular Obama doesn't like people and is aloof. In contrast, the man the media portrays as stiff and disinterested in regular folks, is anything but. It turns out that Mitt Romney is a regular guy who likes people just like you and me.
That may be the real reason Romney has surged in the polls since the first debate. Obama looked aloof and disinterested. Romney came across as engaged, real, and likable. Voters for the first time saw this reality. There were no million dollar ad campaigns and no liberal media personalities telling voters how to see Romney. They saw him with their own eyes, heard him with their own ears. They decided that the man they had been told was unlikable, dangerous, and ill-equipped, was, in fact, quite likable, quite capable, quite sensible, and quite reasonable.
Will the second and final presidential debate reshape the voters' understanding of the candidates? Perhaps. But the first debate provided an historically significant opportunity for voters to determine for themselves more about both candidates and as a result had a historically significant change in the polls.
– – – – – – – – – – –
George Landrith is the president of Frontiers of Freedom, a public policy think tank devoted to promoting a strong national defense, free markets, individual liberty, and constitutionally limited government. Mr. Landrith is a graduate of the University of Virginia School of Law, where he was Business Editor of the Virginia Journal of Law and Politics. In 1994 and 1996, Mr. Landrith was a candidate for the U.S. House of Representatives from Virginia's Fifth Congressional District. You can follow George on Twitter @GLandrith.