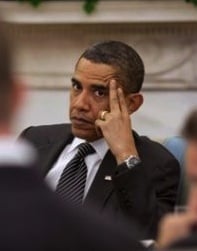 As the Obamaland Government Shutdown Circus comes up on two weeks of performances, President Barack Obama seems to have resurrected the old Flip Wilson line in which character Geraldine Jones explained her bad behavior with the line, "The devil made me do it."
For Obama, the devil is, of course, the Republicans in Congress.
Truth is, this shutdown is more the fault of the president than it is any one single person in Washington. He is the leader. This is on his watch. What we witness now goes directly to his leadership and management. This time, there's no George W. Bush upon which to unfairly scapegoat his failures.
We caught a glimpse of this Tuesday when the president held a news conference in which he demonstrated quite clearly that he not only doesn't possess the temperament to reach a reasonable accord with Republicans, he's more pig-headed than anyone else in the room.
Josh Vorhees of Slate combed through the transcript of Tuesday's performance and listed all of the things President Obama compared Republicans to, directly or indirectly, in just this one sitting.
He called them "actual kidnappers," "half kidnappers, half pranksters," "habitual hostage-takers," "video game-loving homeowners who demand perks for paying their mortgage," "homeowners irrationally choosing to be deadbeats," "potential home buyers turned would-be arsonists," "small business employees turned would-be arsonists," "butchers" and more.
It's not just what the president says during this shutdown that goes to his leadership ability, it's the things his administration is doing that alarms. He has combined political spite with government ineptness to provide a number of ugly spectacles around the nation.
On the first day of the shutdown, the National Park Service (on clear orders from the White House) not only closed memorials housed in buildings, it went to the far greater "I'll-show-you" step of placing barricades around the open-air, unstaffed displays that on any given day and at any given hour a person may freely stroll up to and enjoy. (In previous shutdowns, these memorials remained open, by the way.)
Then a group of World War II veterans from Mississippi arrived to find the WWII Memorial "closed." They stormed "Barack's Gate" with wheelchairs and canes to view their beloved memorial.
Around the nation, our government closed national parks, from Yellowstone to the Grand Canyon — with campers and visitors rounded up and kicked out like Third-World refugees.
Stories of righteous disobedience abound. At Gettysburg, Pa., our government under Obama's leadership barricaded pull-offs on a public road just so people could not easily view the battlefield. People removed the "Barackades" and left behind notes stating: "Catch us if you can."
Glenn Reynolds, a law professor at the University of Tennessee and purveyor of Instapundit.com, said the cones are there as an evocation of the power and necessity of the federal government.
"President Obama said that government is just a word for the things we do together," Reynolds told the Christian Science Monitor. "Apparently that includes kicking WWII veterans off their memorial."
At Red Rock Canyon National Conservation Area — a scenic area outside Las Vegas that is unfenced and as wide open as any in Nevada — our government tried to close the outdoors.
Gina Borchers and her sister Donna Kanehl walked under a locked road gate and went for a glorious walk. That is until a patrolling Bureau of Land Management officer spied them and gave them each a $275 citation for "creating a nuisance."
"Obviously we were bad, bad old ladies with our visors and our water bottles," the 55-year-old Borchers said laconically.
Mr. President, Americans are not nuisances on their own land. Remember the Sagebrush Rebellion? Government may be able to close a building, but blocking access to wide-open federal lands is legally suspect.
The president whines, "The devil made me do it." But that doesn't excuse the stupid actions of our government under his direction. Evicting people out of their own national parks, but finding the resources to financially whack little old ladies on a nature walk is truly a spectacle in leadership failure.
.     .     .     .     .     .     .     .     .     .     .     .     .     .     .
Sherman Frederick is the former publisher of the Las Vegas Review-Journal and a member of the Nevada Newspaper Hall of Fame.  You can read his blog at here.