Reporters love to play "Gotcha" with politicians. It's in their DNA. A story about a politician caught doing something that conflicts with his or her platform is editorial gold. Sometimes.
What's good for the goose isn't always good for the gander. A conservative "family values" Republican caught in an affair or a self-described "pro-life" politician who is rumored to have paid for a girlfriend's abortion becomes national news with remarkable speed. And it's not just the politico involved who must deal with it. It becomes an issue in other races when fellow Republican candidates and officeholders are asked about it, as they invariably are.
The same is not true for Democrats. Exhibit A is the extramarital dalliance of the very married former U.S. senator and Democratic vice presidential candidate John Edwards.
Edwards not only had an affair with a campaign aide but fathered a child out of wedlock. The rumors about all this were rampant—and relevant, considering how he made the strength of his marriage to his dying wife Elizabeth a centerpiece of his personal narrative. Yet no mainstream media outlet would go near the story until it broke in the National Enquirer and everyone had to cover it.
Admittedly, those running on the GOP platform who make themselves vulnerable to such charges generally deserve what they get. What's odd—or at least worthy of comment—is how hard it is to call out Democrats who are caught committing economic hypocrisy.
Democrats who campaign on a platform urging more social spending and trumpeting their concern for the poor, but whose tax returns show they gave little to charity, have never had to deal with a media firestorm over the issue.
One good example of an economic hypocrite is businessman Tom Steyer, who made billions investing in oil and natural gas. He ran for president on an anti-oil and gas platform that heavily promoted renewable energy (after he'd made his money and was spending it freely) so he could prevent anyone from doing what he'd done in the future. If that sounds to you an awful lot like "Do As I Say, Not As I Do" you're not wrong.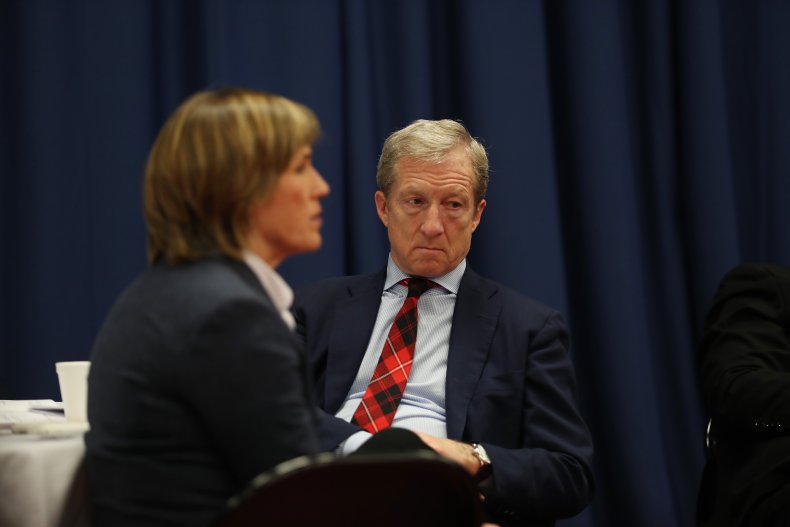 Steyer's not the only Democrat with this problem. Candace Valenzuela, a Democrat running in Texas' open 24th Congressional District, has attracted national interest because she'd be the first Afro-Latina in Congress if she wins. She's made attacks on corporations and "corporate social interests" a central theme of her campaign, evading discussion of how she personally profited from the oil and gas industry thanks to the job her husband once held at a subsidiary of Caterpillar, one of the country's largest manufacturing concerns.
Valenzuela's positions on the environment and American energy production are to the left of even the Green New Deal. She's on record opposing American fossil fuel production and calling for a stop to all oil and gas permitting. Not good for Texas, not good for Caterpillar, but good for her because the economic benefits she reaped from the oil and natural gas industry are already in the bank.
Valenzuela's not the only Democrat whose positions are at odds with their personal economic narrative.
Arizona's Tom O'Halleran, running for reelection in the state's First Congressional District, likes to tout his work getting federal funding to clean up polluted uranium mines on land belonging to the Navajo Nation. Yet his family has bought, sold, and still owns thousands of shares in different mining companies, one of which abandoned more than 75 uranium mines on that same land. Is O'Halleran seeking tax dollars to clean up his own mess? One could argue he is.
Then there's Rep. Gil Cisneros, who has for years been invested in and profited from "Big Pharma" but is running for reelection calling for lower prices for prescription drugs. And there's a whole bunch of Democrats in the campaign finance reform and corporate social responsibility crowd who've broken their pledge to refuse corporate PAC dollars.
Somehow none of that rises to the level of interest in the hypocrisy shown when a "family-values" congressional Republican is accused of an affair with a staffer. And, when a similar case involving now-former California Democratic congresswoman Katie Hill came to light, it was a race to see who could find the best excuse for her behavior and the most effective way to shift blame (and the story) onto someone else.
As a matter of policy, economic hypocrisy is just as big an issue as those that arise in matters of personal conduct. It's obvious to the people, at least when they know about it. It should be just as obvious to the press.