"I find his love of fox hunting, dancing, cards, and the theater all very appealing. His terrible temper—which he learned to control—is also clearly very human. Nor should his entrepreneurial impulses—the canal projects, the land speculation—be seen as incongruous. He was an active, energetic man of his time."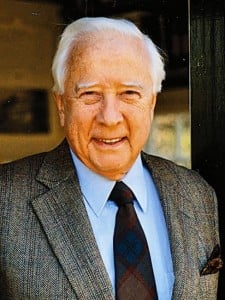 by David McCullough
The old familiar scenes, the clichés about Washington, actually do capture the essence of the man. Even Parson Weems's little story about the cherry tree, silly as it may be, conveys the fundamental truth of his honesty. Or, consider "Washington Crossing the Delaware." That's one of the greatest moments in American history—and very revealing. He had such tremendous courage, nerve, and a willingness to take risks, and he was emboldened not just by his own bravery and audacity, but by total devotion to the cause of America.
There he was, down to just a few thousand half-starved troops, having retreated ignominiously across New Jersey, with no support from the local populace. The best army in the world was bearing down on him. His only recourse was to cross the river and put it between him and the British, then presumably lick his wounds on the other side.
But what does he do? He attacks! Imagine, he crosses back over the river again in driving sleet and snow and attacks, hits the enemy after they've gone into winter quarters at Trenton—and on Christmas night!
Jefferson said Washington's most important characteristic was prudence. He must have been thinking of Washington as president, because as commander of the Continental Army some of his most effective actions were notably imprudent. Surprise was the essence.
Think what he'd done at Boston when he put the guns on Dorchester Heights. It was audacious in the extreme, almost unimaginable, and all accomplished, in secret, in a singe night. One of the British officers said, "My God, these fellows have more work in one night than I could make my army do in three months."
Compared with the British commanders he was facing, Washington had had hardly any experience. He'd been out of the army for some seventeen years, and had never commanded anything as large as a regiment. He'd had no experience with artillery. But none of that stopped him.
One of his greatest qualities was that he wouldn't give up. He grew in the job and the army grew in its job with him. And that, of course, is very American. They learned by doing it.
Washington just stubbornly refused to succumb to the onerous reality that the odds were so heavily against him. He did a lot of complaining—indeed whining—to Congress, and especially about its failure to pay his men. But in that, his humanity comes through. He wasn't the marble man so often depicted.
I find his love of fox hunting, dancing, cards, and the theater all very appealing. His terrible temper—which he learned to control—is also clearly very human. Nor should his entrepreneurial impulses—the canal projects, the land speculation—be seen as incongruous.
He was an active, energetic man of his time, a strong man. When he came into a room, people knew someone important had arrived. Abigail Adams, as astute a judge of people as anyone of that day, thought her husband's praise for the general a bit restrained, given her impressions. Washington was six-foot-four in his boots—quite unusual then—and knew full well the importance of how he appeared.
I think the people who hold up the longest in the nation's memory are those who best personify—legitimately personify—great events. In his own time, Washington personified, as did no one else, both the success of the revolution and the establishment of a new nation. It's no wonder he was idolized. The fact that he was the intrepid leader through thick and thin—and remember, it was mostly thin—and triumphed, made him irresistibly important and appealing. Right from the start as president, he set very high standards for the office; and the dignity was among the most important of those standards. He created the presidential ideal, an American ideal, and of this too, he was quite conscious.
It's not fashionable now to praise great men or women. It's argued that this or that figure from the past wasn't great because he or she wasn't perfect. Greatness and perfection, however, are not synonymous. Of course there have been great Americans, many of them, and George Washington was one of the very greatest.
~
David McCullough is an author, narrator, historian, and lecturer. He is a two-time winner of the Pulitzer Prize.