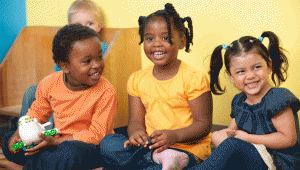 With increasing regularity, Louisiana mother Lakisha Fuselier was leaving work early to deal with her second-grader, Albert.
Albert, now 9, has attention deficit hyperactivity disorder, and the public elementary school he attended in St. Martin Parish struggled to meet his needs. So when his mother learned he might be eligible for Louisiana's school choice program, she applied. He got in.
Albert is in his second year at Holy Family Catholic School in Lafayette, La. He's doing so well, his two sisters joined him.
Fuselier tells us the public schools her children attended weren't awful. They weren't derelict. They weren't unsafe. But they were big. The teachers didn't really know the students. They didn't have the patience to work with Albert.
And the family was stuck there. As a single mother, Fuselier could not afford private school tuition for one child, let alone for three. She calls Louisiana's school choice program "a blessing."
But the program, in its second year, is in trouble. The U.S. Department of Justice filed a motion in a Louisiana federal court last month, claiming the program could reverse decades long desegregation efforts in that state. "After analyzing the data, the United States determined that the State's voucher awards appeared to impede the desegregation progress in 34 schools in 13 school districts," the motion reads.
Think about that for a second: The Justice Department is concerned that giving vouchers mostly to minority children so they can attend better schools perpetuates segregation. Best then to leave them in their failing schools? It's a sinister argument to say the least.
Let's take a closer look:
The Justice Department says Louisiana failed to consider the impact its school choice program would have on the racial makeup of schools. For decades, many Southern schools, including a few dozen in Louisiana, have been under federal court monitoring to ensure that outwardly racist segregation policies of the 1960s and 1970s have been eliminated.
As part of the monitoring that continues today, some Louisiana schools must balance the racial makeup of students and teachers and, in some districts, bus kids across town. A lot has changed during the last 40 years, and larger schools have been able to extract themselves from the federal mandates. Others have not. Those are the schools the Justice Department is targeting. If those schools lose students to private schools, will the racial balance be disrupted?
Louisiana State Education Superintendent John White says the feds' case is "disingenuous." For years, the Justice Department didn't seem to care much about Louisiana's desegregation mandates — until the legislature passed the school choice program.
"They never contacted me as state superintendent, nor our state board of education, to discuss the objectives of desegregation," he told us. "Their entire line of inquiry happened the minute the state passed a private school voucher law in the spring of 2012. Even while it was being debated on the floor, they were contacting us about the private schools and if they were compliant with desegregation issues, and they are."
In its filing, the Justice Department seeks to halt continuation of the program until the state can prove it won't cause more racial imbalance in the schools.
But Louisiana's school choice program is colorblind, by design. It doesn't operate based on race or ethnicity. Any family with an income below 250 percent of the federal poverty line — for a family of four that's $58,875 — is eligible to apply. Only kids in schools graded by the state as C or worse are eligible. If they're awarded vouchers, they can use the money toward private schools and some public schools. Roughly 90 percent of voucher recipients are minorities.
Families in the worst schools are given priority. This year, about 8,000 kids are in the program. Roughly 12,000 applied.
Is the Justice Department's supposed goal doable? That is, can a colorblind choice program exist under the weight of 40-year-old desegregation mandates?
Or is Justice's real goal to shut down school choice? Because it certainly looks that way. A skeptic would note that teachers unions, who have given the Obama administration plenty of money and muscle, see vouchers as threats to the public education industry's status quo.
This we know: If Justice can persuade the courts to roll back Louisiana's successful program, the feds will have to answer to parents like Lakisha Fuselier. More than 93 percent of the parents of students in the program reported satisfaction this year with their child's school, according to the state superintendent's office. Students who switched schools performed better on literacy and math tests.
If sending all those kids back to their failing public schools is progress, as defined by the government, then what a despicable outcome: the federal agency whose title and mission is "justice" perpetuating … an injustice.
.     .     .     .     .     .     .     .     .     .     .     .     .     .     .     .     .     .     .     .
This op-ed article was written by the editorial board of the Chicago Tribune.